Rugged, versatile, and accurate is what you are looking for in a red dot. When I first took a look at the DeltaPoint Pro vs RMR optics it was obvious that both these products are excellent choices. They are designed specifically to withstand the toughest of conditions while still being reliable. However, what makes each of these products unique, and what will work better for you – Let's find out. After testing both I think the DeltaPoint Pro is your BEST choice!
---
Main Differences: Leupold DeltaPoint Pro vs. Trijicon RMR
Pros:

Advanced Technology - Auto Brightness Adjustments

Lightweight & Durable - Aluminum Housing

Top Loading Battery - Easy To Change

Pros:

Very Durable - Rugged Aluminum Housing

Cheaper Than SRO

Perfectly Sized For Concealed Carry Handgun
HuntersHalt: #1 Choice
Pros:
Advanced Technology - Auto Brightness Adjustments

Lightweight & Durable - Aluminum Housing

Top Loading Battery - Easy To Change
Pros:
Very Durable - Rugged Aluminum Housing

Cheaper Than SRO

Perfectly Sized For Concealed Carry Handgun
Both Leupold & Trijicon are fantastic optic manufacturers with great reputations for quality optics. That being said there are a few major differences between these two red dot sights.
Reticle Options – Both sights have fantastic reticles. However, the Trijicon RMR comes in two different sizes (3.25 MOA, and 6.5 MOA) to give shooters more options.
Viewing Glass – The DeltaPoint Pro has a larger viewing glass. Depending on your specific use case, this can be beneficial for target acquisition and situational awareness.
Automation – The Leupold DeltaPoint Pro has an automatic brightness feature that can adjust the reticle brightness to your specific environment.
---
What Is The Leupold DeltaPoint Pro?
We earn a commission if you click this link and make a purchase at no additional cost to you. Thank you for supporting us - we really appreciate it!
Shotgun, AR, and pistol, this red dot sight is known for its versatility. Leopold has a reputation for creating high-end, top-quality scopes, and this sight is no different. Crafted from the highest grade of aluminum, this sight is lightweight but still knows how to take a punch. If it suddenly decides to break, no worries, as Leopold has a lifetime guarantee on the hardware – that's how much they believe in their product.
---
What Is The Trijicon RMR?
We earn a commission if you click this link and make a purchase at no additional cost to you. Thank you for supporting us - we really appreciate it!
I am no stranger to reviewing Trijicon sights. In fact, I just recently compared the Trijicon RMR vs SRO red dot sights the other day. The RMR stands for Ruggedized Minature Reflex, and its name stands true. With a patented housing shape specifically designed to absorb impacts and deviate possible stress away from the red dot's lens, it is sure to stand the test of time.
The Trijicon RMR is available in three versions:
LED
Adjustable LED
Dual-Illuminated
---
1) Durability Comparison: RMR vs. DeltaPoint
The RMR is known as the most durable red dot optics available, costing almost the same as a Glock, it should be! The warranty for the tritium lamp is fifteen years, and for the electronics it is five years. Although, the electronics have been specifically engineered to withstand the harshest of environments and ensure reliability when you best need it.
Trijicon tests its products to ensure that it exceeds military testing protocols, and it is no different with the rmr-type scopes. Durabilty is actually one of the main reasons I consider Trijicon to be the best 300 Blackout Sights as well.
An immersion test is done where the RMR is filled with nitrogen to check if the optic is fog proof or has any leaks.
The RMR is waterproof up to 60 ft and climate-proof up to -20°F and 140°F for both extremes.
Personally, I've had only good experiences with the Leupold DPP. The delta point pro is known for its durability as it is crafted from high-quality aluminum. The warranty for the Leupold DPP is two years on electronics and lifetime for the rest.
Leopold puts their scopes through the toughest of tests.
The delta point pro can withstand cold up to -40°F and heat up to 160°F.
The Leupold DPP can withstand water depths of up to 33-foot and is tested to be fog proof and free from leaks.
Rigorously tested by a recoil simulation machine and adjusted accordingly to ensure your rifle always hits its target.
Takeaway: Whether you want to use a red dot for sport, military or recreational purposes, it must be tough as nails to survive anything and everything that is thrown at it. In this regard, the Trijicon RMR takes the crown as its housing patent is much better than the inferior Leupold Deltapoint Pro's. The Trijicon has a reputation for surviving 50,000 rounds, while with the Leupold you are lucky to get between 5,000 and 10,000 rounds.
2) Reticle & Dot Size Comparison: RMR vs. DeltaPoint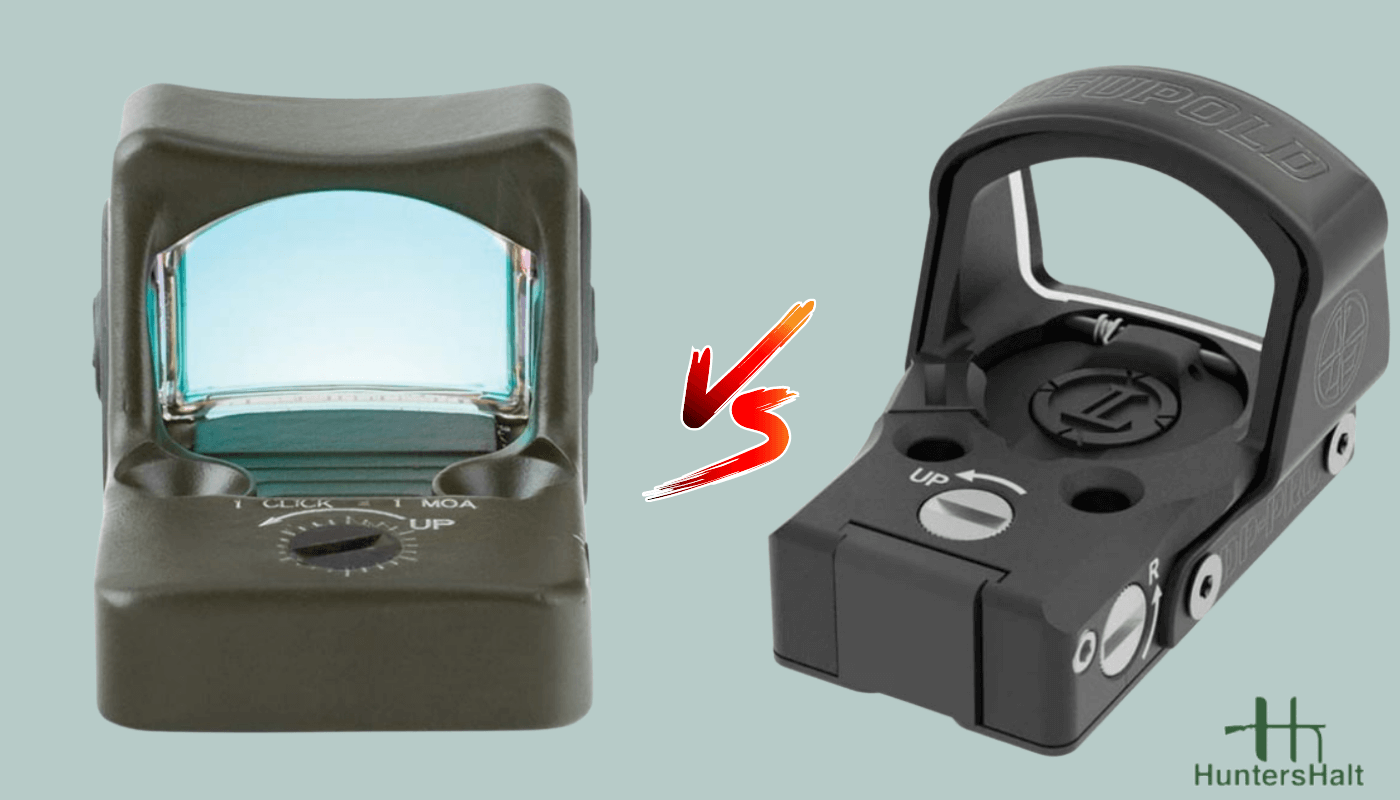 There are three types of Trijicon RMR available. Each has its own distinct method of lighting. In fact, adjustability is one of the primary reasons I consider Trijicon to be the best AR-15 red dot sight as well.
The Adjustable Led – Brightness can be manually adjusted or leave it on automatic, it is battery-powered.
Dual-Illuminated – Incorporates fiber optic technology collecting ambient light and adjusting the reticle brightness automatically. It is not battery-powered, it uses fiber optics and tritium to illuminate its reticle in obscure lighting situations.
Led – Adjusting its brightness automatically based on the surrounding lighting, however the brightness cannot be manually adjusted. The Led RMR is also battery powered.
Each Trijicon RMR has different red dot options available, including:
Adjustable Led – 1, 3.25 & 6.5 MOA red dots
Dual-Illuminated – 9 & 13 MOA amber dots | 9 & 13 MOA green dots | 13 MOA green/amber triangle
Led – 1, 3.25 & 6.5 MOA red dot options
The RMR has a blue hue tint that can be inconvenient for some, especially in darker lighting conditions. Finding the right red dot with rmr footprint can significantly improve your performance. However, it can be overcome with the eight brightness settings on offer and adjusted with push buttons on both sides of the optic.
With its bat-eared shape, the Trijicon RMR provides a smaller field of view window than the Leupold Deltapoint Pro. It is also embedded lower onto a gun. Overall, this optic is an excellent option for daylight use. However, when you are indoors and looking through a window into a more brightly lit area, the trijicon rmr does not provide enough light to be effective.
The night vision of the trijicon is very effective. It is also pro minimal bursting, this is a big one because, having glasses, I sometimes encounter 'starburst' when looking and shooting with my pistol sights.
The leupold only has the standard option, which is more than enough. It comes in a 2.5 MOA red dot. You can adjust the Leupold Deltapoint Pro's eight brightness settings with a single button located on top of the optic. Don't get me wrong, some Leupold scopes have problems, but I did not find many with the DeltaPoint Pro.
In my opinion, the Leopold has a better field of view than the Trijicon RMR type optics, as its glass window is much wider. Although, if you are looking for range to go with your rifle, then the 1 MOA RMR might be a better option. The Deltapoint Pro's glass window provides a better natural color view than the blue-tinted RMR's glass.
The larger window of the Leupold Deltapoint Pro and its overall better brightness functionality make it the winner for the reticle and dot sizes comparison.
3) Price Comparison
The RMR has a higher price point than the delta point pro. Don't get me wrong, both of these are great optics. But for the price I have to give the edge to the DeltaPoint Pro.
4) Battery Life Comparison
The battery life winner of the Trijicon rmr vs. Leupold Deltapoint Pro is always up for debate. If you're looking for something with a even better battery life consider checking out the comparison of Holosun 507c vs 508t red dot sight!
The RMR uses a single CR2032 battery, and the battery life is expected to be up to two years. It does not have an auto-off function, however, it dims after 16.5 hours.
The DeltaPoint has a unique method that saves battery life by incorporating motion sensor technology. The sight will automatically enter sleep mode after being idle for five minutes and switch on when it detects motion. Still, its battery life is just a mere 190 hours on the highest setting.
The ease of battery change is another thing to look at. The added durability of the Trijicon RMR type optics comes with a price, as you will need to remove the optic to get to the battery compartment before you can replace the battery. Which can be quite a pain as you need to re-zero your optic for your gun. The battery life of the RMR is great, which is probably why some hunters even use it as a Turkey Hunting shotgun red dot as well.
The Leupold Deltapoint Pro has a top-loading battery, making it easy to replace your batteries.
Another handy tool the Leupold Deltapoint Pro has, apart from its motion sensor technology, is a low battery indicator that flashes ten times when batteries are running low. Although the Trijicon RMR has a better battery life, it is compromised with its difficulty to replace the batteries.
Takeaway: Despite the Leupold losing in overall battery life, it wins in being more user-friendly to make it the overall winner in the battery life section.
---
How I Review Red Dot Sights
I review my optics by placing them under real-life use case tests with the following criteria:
Range and Accuracy – Is the range compromised with possible distortion in the glass, do I have a clear sight picture, and am I able to locate and shoot the target after experiencing the recoil from my gun?
Mounting Ease and Zero – How easy is it for me to mount my red dot optics with screws, and how easy is it to zero my red dot sights.
Durability – How durable is my dot sights when mounted for rifle and pistol use? Does it have loctited screws? Will the glass be tough enough to handle the severe pressure of being mounted on a pistol slide? What material is it made from, the trijicon, for instance, uses rugged aluminum housing.
Value – What is the price compared to its competitors, and do I get my money's worth when buying this dot sight? What feature does this product have above its competitors, and is this feature enough to make me want to buy it?
I use all these questions when buying my red dots, but in some cases, if I especially like the aesthetics of the sight, I will just buy it, as is the case with my Deltapoint Pro, which I purchased for my Glock pistol. These optics reminded me a lot of the popular Romeo 5, but make sure you know how to spot the difference between sig romeo 5 fake vs real optic!
---
Frequently Asked Questions
Will DeltaPoint fit RMR?
No, it will not as they use different footprints. However, you can purchase an adapter plate that can be fitted on your pistols here.
Is the DeltaPoint Pro reliable?
Yes, the DeltaPoint Pro has numerous features that make it reliable, including motion sensor technology, a low battery warning system, durability, and warranty packages.
What guns does the DeltaPoint Pro fit?
The Deltapoint is compatible with numerous pistols, including the S&W M&P, S&W Classic, Glock, Glock MOS, Sig 226, Beretta 92F, HK P2000. The added adapter plate you can purchase online makes its useability even bigger.
Is RMR same as red dot?
RMR meaning Ruggedized miniature reflex is the same as red dot.
What footprint is the Leupold Deltapoint Pro?
Footprint C works for the Deltapoint Pro as well as for your Sig Romeo.
---
The Bottom Line
Both these red dot sights are exemplary, each has its own feature that sets them apart from the other, which makes this decision so hard. It all comes down to what it will be used for, the Trijicon RMR is a better outdoor, heavy-duty red dot offering a wider selection of MOA to choose from. In comparison, the Deltapoint Pro is better for sport shooting.
Personally, I would go with the Deltapoint Pro as my preferred pistol dot, the low battery warning feature combined with the wider field of view makes it stand out for me.
We earn a commission if you click this link and make a purchase at no additional cost to you. Thank you for supporting us - we really appreciate it!