If you are looking for a reasonably priced holographic sight, you can't go wrong shopping EOTech. I have tested dozens of different red dot & holographic sights & EOTech is one of the best manufacturers in the game. However, it can be hard to choose between their most popular models: EXPS & XPS optics.
After 12 hours of testing, I have compiled the pros and cons of each optic. The main differences between these EOTech models can be seen by reviewing the co-witness ability, night vision compatibility, ease of installation, price, and more.
Although I found the EXPS to be the best option for me, you'll have to consider your own personal needs and preferences before picking between these two great optics. And if you don't trust my word, check out all the different reviews on Amazon, Optics Planet, Reddit, and other forums. Can never hurt to get a second opinion.
Read on to help make your decision between the EOTech EXPS vs XPS much easier!
---
Which Is Best: EOTech EXPS vs. EOTech XPS?
Pros:

Lower 1/3 Co-Witness

Built-In Quick Detach Lever

Rugged & Durable Design

Pros:

More Budget Friendly

Takes Up Less Rail Space

Better Battery Life
Huntershalt: #1 Pick
Pros:
Lower 1/3 Co-Witness

Built-In Quick Detach Lever

Rugged & Durable Design
Pros:
More Budget Friendly

Takes Up Less Rail Space

Better Battery Life
I put the EXPS & XPS optics through a series of testing in various conditions.
Short Range
Medium Range
Long Range
Low & High Lighting Conditions
After testing both the EXPS & the XPS holographic sights, I decided that the EOTech EXPS3 was the best option for me. The sight height, QD attachment lever, and night vision compatibility make the EXPS a top-of-the-line holographic sight.
---
What Is The EOTech EXPS?
Huntershalt: #1 Pick
We earn a commission if you click this link and make a purchase at no additional cost to you. Thank you for supporting us - we really appreciate it!
The EOTech EXPS is a holographic sight that is exceptionally versatile and rugged. It offers unlimited eye relief and is battery-powered, making it a great choice for a variety of applications. The EXPS features a red dot reticle that is visible in any light conditions, making it ideal for close-quarters combat or medium-range shooting. This sight is slightly taller than the XPS & produces a 1/3 co-witness optic. If you are interested in checking out other optics like the EXPS, read our post on the Best Scopes for AR-15.
Other Features of EOTech EXPS:
Waterproof & fog proof
Quick Release Throw Lever
Battery Life: 1000 hours
EOTech EXPS2 Vs. EOTech EXPS3
Upon first glance, the EXPS2 & EXPS3 seem to be nearly identical. They have the same battery compartment and windage & elevation settings (easy to zero). However, EOTech made some minor adjustments in the EXPS3 model. If you are interested in shopping for optics similar to the XPS2, check out our post on the Best Scopes for M&P-15 Sport 2.
Brightness Settings: EXPS3 added a night vision capable button. This allows shooters to easily switch between daytime mode and nighttime mode.
Price: The EXPS3 is slightly more expensive than the EXPS2. Although this is just a minor price increase. In my opinion, it is completely reasonable for the newer edition.
Reticle Options: The EXPS2-2 edition holographic sights provide a ballistic dual dot reticle.
---
What Is The EOTech XPS?
We earn a commission if you click this link and make a purchase at no additional cost to you. Thank you for supporting us - we really appreciate it!
The EOTech XPS holographic sight is one of the best sights made by EOTech. It offers three reticle options, great battery life, and is small & compact. This sight comes with three reticle options making it a very effective short & medium range sight. It also pairs perfectly with most of the best 3x magnifiers as well.
Other Features of EOTech XPS:
Small optic – Leaves room for rear folding iron sights
EOTech XPS3 is compatible with night vision equipment
Best Battery Life
---
Main Differences EXPS vs XPS
Here are some of the main factors we'll use to analyze the differences between the EOTech EXPS & XPS holographic weapon sights.
Absolute vs Lower 1/3 Co-witness
Night Vision Performance
Installation Time
Sight Availability
Price Difference
Rail Space
Battery Life
Button Placement
---
1) Absolute vs Lower 1/3 Co-witness
The biggest difference between the EXPS & XPS holographic sights is the sight height.
EXPS – Lower 1/3 Co-Witness
XPS – Absolute Co-Witness Setup
The EOTech XPS sight is an absolute co-witness. That means that your iron sights sit in the center of the sight's optical tube, and you have a clear view of them through the sight.
The EOTech EXPS3 has a built-in QD lever attachment system that raises the optic height. This creates a lower 1/3 co-witness. In other words, the iron sights line up in the bottom 1/3 section of the optic. This is the preferred setup for most shooters.
---
2) Night Vision Performance
EXPS3 is probably the best reticle for passive night vision aiming. There are no specific brightness settings built for night vision. However, the sight automatically dims the reticle making it one of the best night vision devices on the market.
The XPS3 is certainly not a bad option. It is also night vision compatible. But the EXPS3 is simply better in low lighting conditions.
---
3) Installation Time
The EXPS comes readymade with a QD, or "quick detach lever" that makes installation a breeze. I personally have never tested a holographic sight that was easier to install & quickly detach from the weapon.
On the other hand, the XPS comes with a standard HEX key with mounting screws. Although this is standard across holographic sights, it is simply not as fast as the EXPS. To make things easier, I recommend swapping those HEX screws with thumb screws. This lets you quickly detach your sight without using a tool.
---
4) Sight Availability
This may not be a consideration for many shooters…however, you cannot buy an optic if it's out of stock. The EXPS is simply a more popular holographic sight. In fact, I was supposed to complete this review several months ago but had to re-schedule my testing due to the EXPS availability. The XPS is generally easier to find in stores and online retailers.
---
5) Price Difference
As I am writing this product review, the price of EXPS and XPS optics are roughly the same. The EOTech XPS3 is slightly cheaper. In my opinion, the price difference between these two sights is not enough to sway me one way or another.
---
6) Rail Space
When comparing the size of EXPS vs XPS sights, XPS is the smallest option. So it'll take up less room on your rail. That means you'll have more room for magnifiers and other accessories. Plus, its small size makes it less likely to get snagged on branches or clothing.
---
7) Battery Life
The EOTech XPS uses a single transverse 123 battery to provide best-in-class battery life while maintaining exceptional performance. This sight is an excellent choice for those who want the best battery life in an EOTech sight.
---
8) Button Placement
The EOTech XPS has buttons to control brightness settings on the back of the optic. However, this can be an issue if a shooter wants to attach a magnifier or other accessory behind their optic. The buttons would not be accessible! For this reason, the EXPS sight placed its control buttons on the side of the optic. This is another reason why I personally prefer the EOTech EXPS!
---
When Is An XPS Sight Better?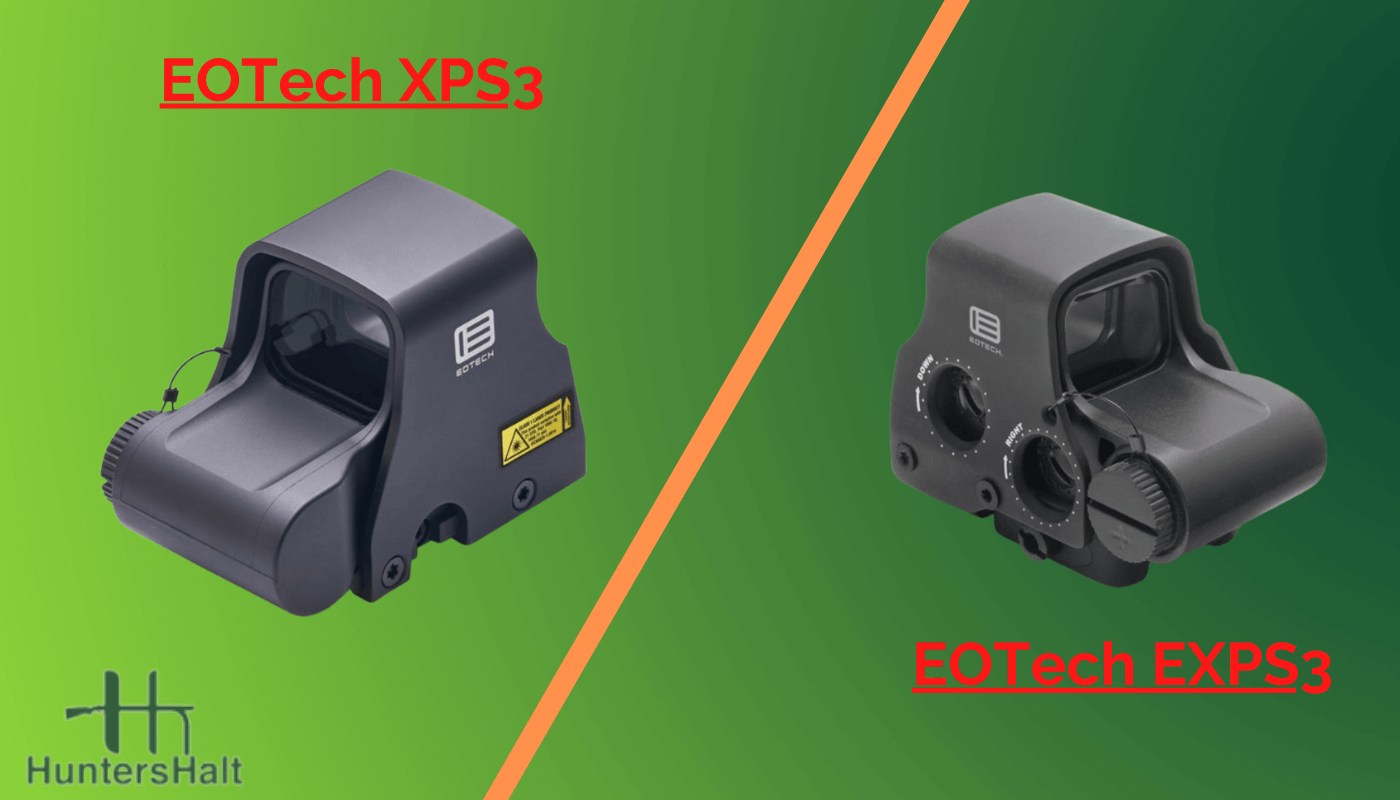 If you've made it this far, then you know my preferred optic is the EOTech EXPS3. It is simply a quality optic with superior features. However, there is no one optic that is best for everyone.
Certain weapons lend themself to the EOTech XPS sight. On certain guns where the receiver is a little bit higher, it can actually be beneficial to have an optic that sits lower down. This can actually create a better sight picture and reduce optical obstructions for a shooter. I have found that the XPS is actually better for shooting my G3 or FAL as it lets me get some more cheek on the gun. And if you're interested in more options, check out our review of the Aimpoint Comp M5 vs T2 Optics!
---
FAQs – Eotech Sights
What height is Eotech XPS?
The EOTech Exps3 optic is 3.8″ x 2.1″ x 2.5″ (L x W x H). The optic is 2.5
Does Eotech have Shake Awake?
EOTech sights do not have a shake awake feature. Several high-end optics have this feature to preserve battery life and decrease setup time in combat situations.
Is the Eotech xps2 absolute co-witness?
The entire EOTech XPS series are absolute co-witness optics. This means that when you mount it to your rifle, the point of Aim (POA) and point of Impact (POI) will be exactly the same regardless of your rifle's position. The XPS series is also parallax free, meaning that there is no need to adjust the optic for different distances.
Does Eotech have lifetime warranty?
Is the Eotech Exps lower 1/3?
Yes, the EXPS3 sits at a lower 1/3 co-witness height. It is designed this way so that you can use it with mounted iron sights. The lower 1/3 height also gives you a wider field of view. You can also order the EXPS3 with a four-dot reticle which gives shooters additional aiming points for various distances.
Which EOTECH does the military use?
Many people in the military choose between red dot and holographic sights. In fact, the EOTech 553 Series A65 holographic sight is most commonly used by the military. This sight is night vision compatible & is designed for rapid target acquisition and engagement at close combat distances.
Are Eotechs fuzzy?
Yes, Eotech sights are fuzzy because they are holographic sights rather than projected red dots. If your sight is excessively blurry, try making adjustments to the brightness settings. If that doesn't work, get checked by a doctor for Astigmatism. It is a common eye condition that affects almost 1/3 of the US population.
What is Moa EOTech XPS2?
The EOTech XPS2 is a holographic weapon sight that has a 68 MOA ring with a 1 MOA center dot. Many red dot sights use a 3 MOA or 6 MOA reticle. However, the large ring on the XPS2 allows for fast target acquisition and accuracy from short to medium range. The 1 MOA center dot helps to hone in on targets at longer distances.
Are Eotechs good?
EOTech offers high-quality optics. They are known to increase accuracy from close and medium ranges. Many shooters consider Eotech holographic sights to be the best electronic sights on the market. They are very popular among law enforcement and military personnel.
Does Eotech EXPS3 have night vision?
The EOTech EXPS3 does have night vision compatibility. The night vision mode amplifies available ambient light to provide a clear image in very low-light conditions.
---
The Bottom Line
Now you know the difference between the EOTech EXPS & XPS holographic sights. Red dot and holographic sights are becoming more and more popular. There is no sight that is best for all shooters. However, after testing both of these sights extensively in a variety of different shooting conditions I believe the EXPS is the best option. Let us know which optic you choose and why!
Huntershalt: #1 Pick
We earn a commission if you click this link and make a purchase at no additional cost to you. Thank you for supporting us - we really appreciate it!