The Sig Romeo 5 is one of the most popular red dot sights on the market today. Shooters run the Sig Romeo 5 for a variety of hunting and tactical situations. Unfortunately, there are a large number of fakes on the market today. Shooters do their best to find sales and save some cash. But this strategy can come back to bite you if you accidentally buy a counterfeit red dot sight. In this post, we'll teach you how to spot a fake Sig Romeo 5 red dot sight.
---
Learn To Spot A Counterfeit Sig Romeo 5
Buying a new optic only to find out it is fake is the WORST. Often times there is no way to get a refund or store credit. In the sections to come, we'll list the main ways to spot an imposter Sig Romeo 5 red dot sight. There is no doubt that SIG makes some of the best AK optics, but there are also Sig Romeo 5 problems to be aware of!
1) The Seller Matters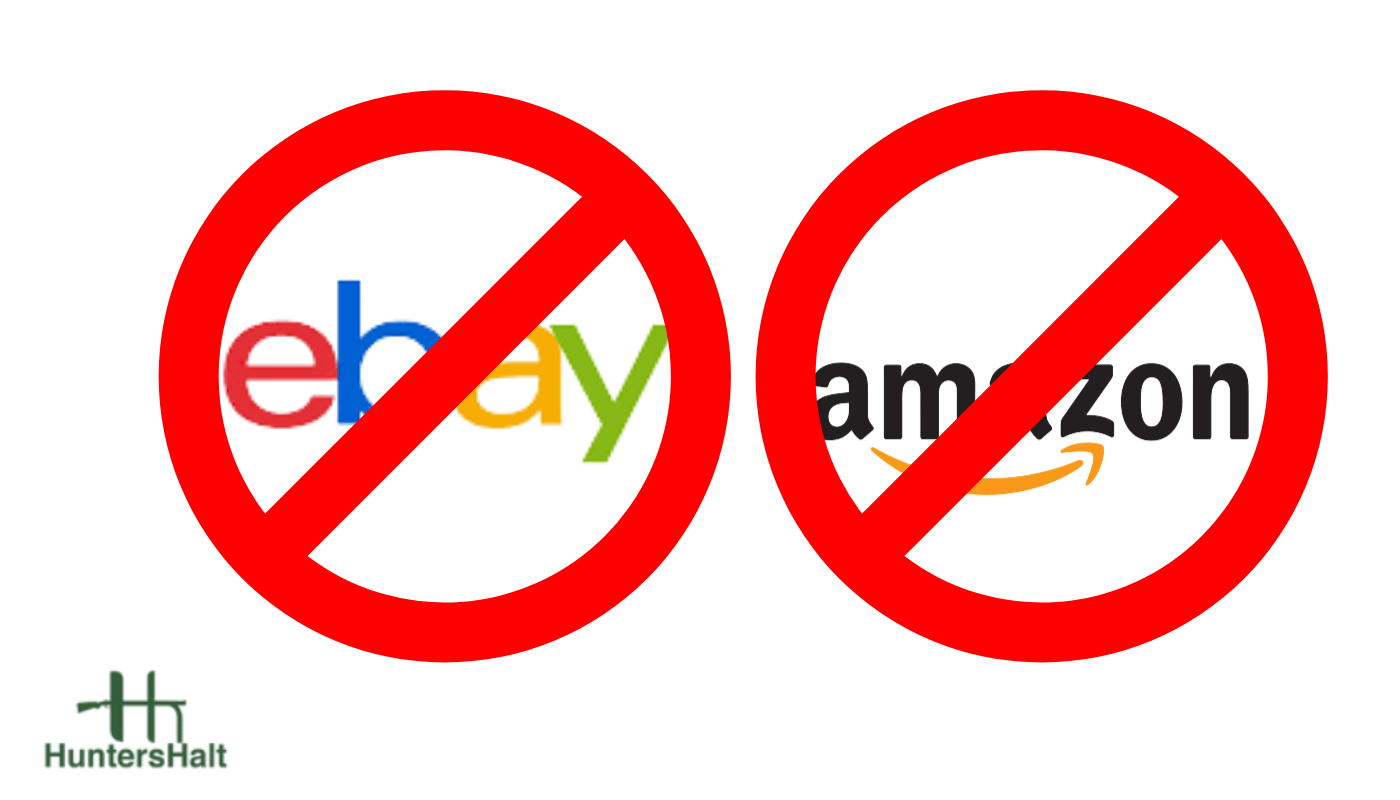 Most shooters get themselves into trouble by shopping at the wrong stores. People turn to Ebay to find a discounted red dot sight. Only to find out they were shipped a fake!
Others will choose to shop on Amazon. Amazon is a major brand, we can trust them, right? The answer is it depends. You must verify that you are purchasing from a credentialed verified seller of Sig Romeo optics. Don't get me wrong, many of the best AR-15 red dots I have bought were from Amazon. But there are many knockoff stores that sell counterfeit parts on Amazon. Shop with caution!
Tip: Only buy from major retailers & manufacturers (i.e Brownell's and Optics Planet)
2) Logo & Lettering Issues
The next biggest clue you have bought a fake Romeo 5 is logo and lettering issues. In fact, the SIG Sauer Romeo MSR has issues with fakes as well! Shooters that have bought fake optics noticed the following:
The "S" looks like a "5"
The logo is crooked or a cheap sticker
Logo is in the wrong spot
These are some of the biggest cosmetic defects I have seen. If you are questioning the quality of your Romeo 5, Google a picture of the optic from Sig's website and compare. The Romeo 5 is comparable quality-wise to the EXPS or XPS red dots, so there should be no cosmetic defects.
3) Color Of The Optic
If you own a Sig Romeo 5 and have noticed that the color is a bit off, don't worry – it's probably not just your eyes playing tricks on you.
It could mean your Romeo 5 is a counterfeit. While fakes can look almost identical to the real thing, they often have slight color variations and flaws. If your Sig Romeo 5 is blacker than usual, it might be a good idea to double-check its authenticity. Sig makes some of the best cheap pistol red dots, there should be no major cosmetic issues like color.
Tip: Check the color of your optic.
4) Objective Rings
Another sign that you have a fake Romeo 5 is the objective lens.
Objective Rings – If there are more or less than 3 rings…your optic is fake
Objective Lens Angle – If the lens is straight or perpendicular…your optic is fake.
Although counterfeit manufacturers in China are becoming more and more effective, they are not top quality. Vortex Scopes are made in China, so I am not saying that all products made in China are bad.
5) Serial Number Issues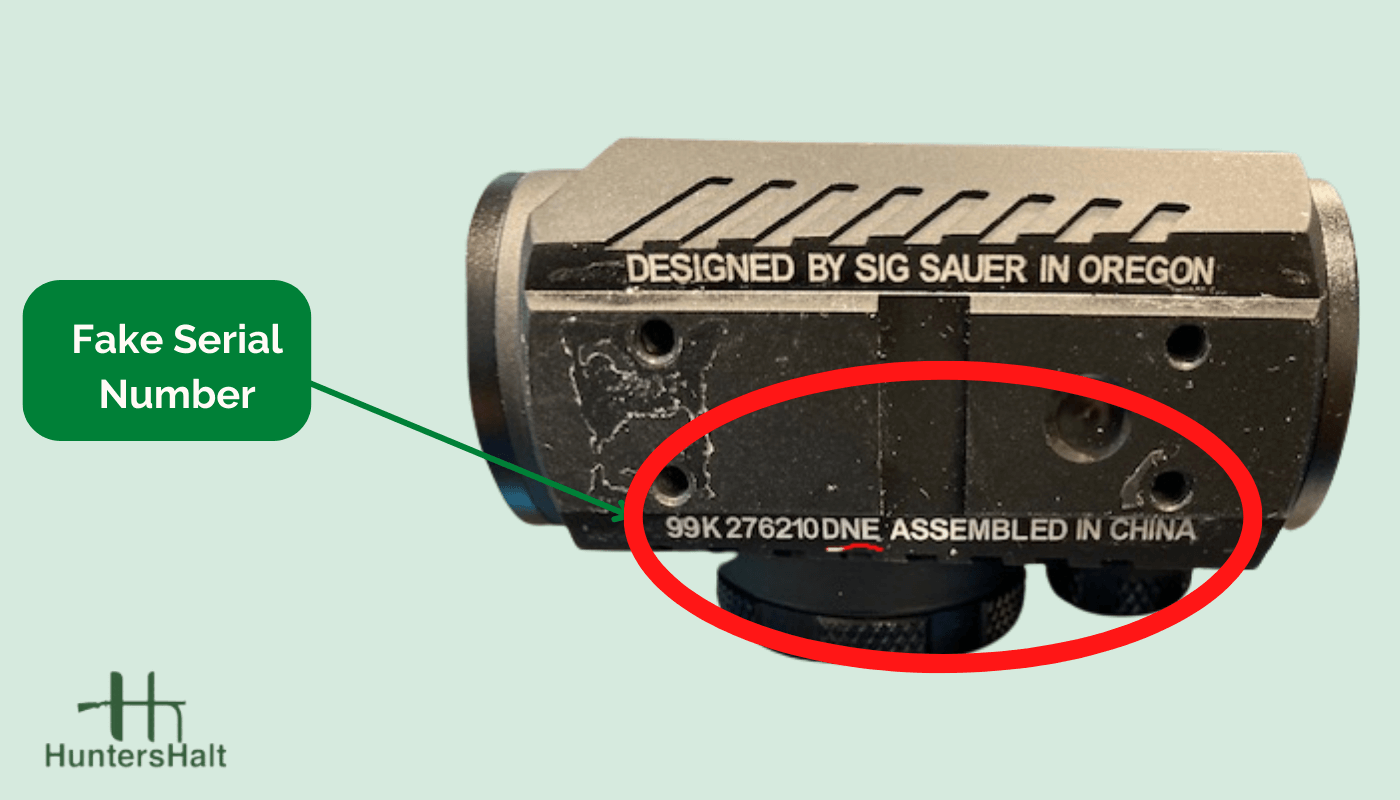 Sig & other red dot sights, like the best 300 Blackout sights, come with serial numbers printed onto the optic. This number allows a manufacturer to gain traceability on every optic they produce.
Sig will not repair your Romeo 5 if the serial number on the bottom of your optic is fake or made up. And rightfully so! In our latest SIG Romeo 5 review, we saw that this can happen quite frequently!
After taking your red dot sight out of the box, immediately check the serial number on the bottom of the red dot. Give SIG customer service a call and ask to verify the serial number if you are suspicious.
6) Packaging
Check the packaging that your red dot sight is delivered in. If the packaging looks suspicious or off in any way, the product probably isn't authentic.
Genuine Sig Romeo 5 laser sights come packaged with a set of manuals and mounting accessories, all securely stored in a sturdy carrying case. The case should also be adorned with the signature Sig Sauer logo. In fact, I one time found out my Vortex Venom had problems when I noticed the packaging was not right.
Amazon usually has their own unique packaging, but be sure to verify the credentials of the seller!
7) Performance
Finally, you might find that your Sig Romeo 5 just is not performing correctly. The red dot might be blurry on higher intensity settings or the motion activation settings might not work at all.
Test out our red dot. If the main features are not working… the red dot might be fake. You're probably better off using iron sights than fake red dot sights.
---
Frequently Asked Questions
Are there fake Sig Romeo 5?
Yes, there are many fake Sig Romeo 5s on the market. It's important to do your research before buying a replica red dot sight, as you don't want to end up with an optic that isn't the same. Make sure you only purchase a real SIG from reputable dealers, and if you're not sure whether or not an optic is authentic, have it authenticated by a qualified expert.
How far can you shoot with a Sig Sauer Romeo 5?
You can shoot around 150 yards with a Sig Sauer Romeo 5, but it will depend on the ammo you're shooting, the atmospheric conditions, and your own skill level.
What is the difference between the Sig Romeo 5 and the SIG Romeo MSR?
The SIG Romeo 5 has a battery life of up to 40,000 hours, while the Romeo MSR has a battery life of up to 20,000 hours. So if you're looking for something that will last you a long time, the Romeo 5 is the way to go. The Sig Romeo's motion-activated illumination makes sure the optic automatically turns on and preserves battery life when not in use.
Is SIG made in China?
Sig Romeo 5 is manufactured from a Chinese Holosun factory.
---
The Bottom Line
Unfortunately, the gun market is flooded with fake optics. Many shooters have thought they got a deal on their Sig Romeo 5, only to find out it was a counterfeit. Now you know exactly what to look for to avoid the trap of fake red dots. Remember, if the price seems to good to be true…it is! Shop with caution and only buy from registered distributors.