The Glock 43x MOS is one of the most popular concealed carry handguns made by Glock in recent years. With the MOS, shooters can now easily mount an optic to boost speed, accuracy, and performance.
But which red dot sight is best for the Glock 43x MOS?
After tested 5 different red dot sights from 5 different brands, the Compact Reflex Mini Red Dot Sight from Shield Sights stood out from the rest. The Shield RMSc is durable, reliable, compact, and highly accurate.
But not every shooter is the same. Read on to find which of these red dot sights works best for your budget, use case, and personal preferences!
Description:

Includes: Up to 13% Off w/ Free S&H

Description:

Includes: CR1632 w/ Free Shipping

Description:

Includes: CR2032 w/ Free S&H
HuntersHalt: #1 Pick
Description:
Includes: Up to 13% Off w/ Free S&H
Most Durable
Description:
Includes: CR1632 w/ Free Shipping
Most Versatile
Description:
Includes: CR2032 w/ Free S&H
---
What Is A Glock 43x MOS?
A Glock 43x MOS is a compact Glock pistol that us most commonly used for concealed carry. The acronym MOS stands for "MODULAR OPTIC SYSTEM." In other words, the Glock 43x MOS is designed with a mounting system that is compatible with various red dot sights and other optical accessories.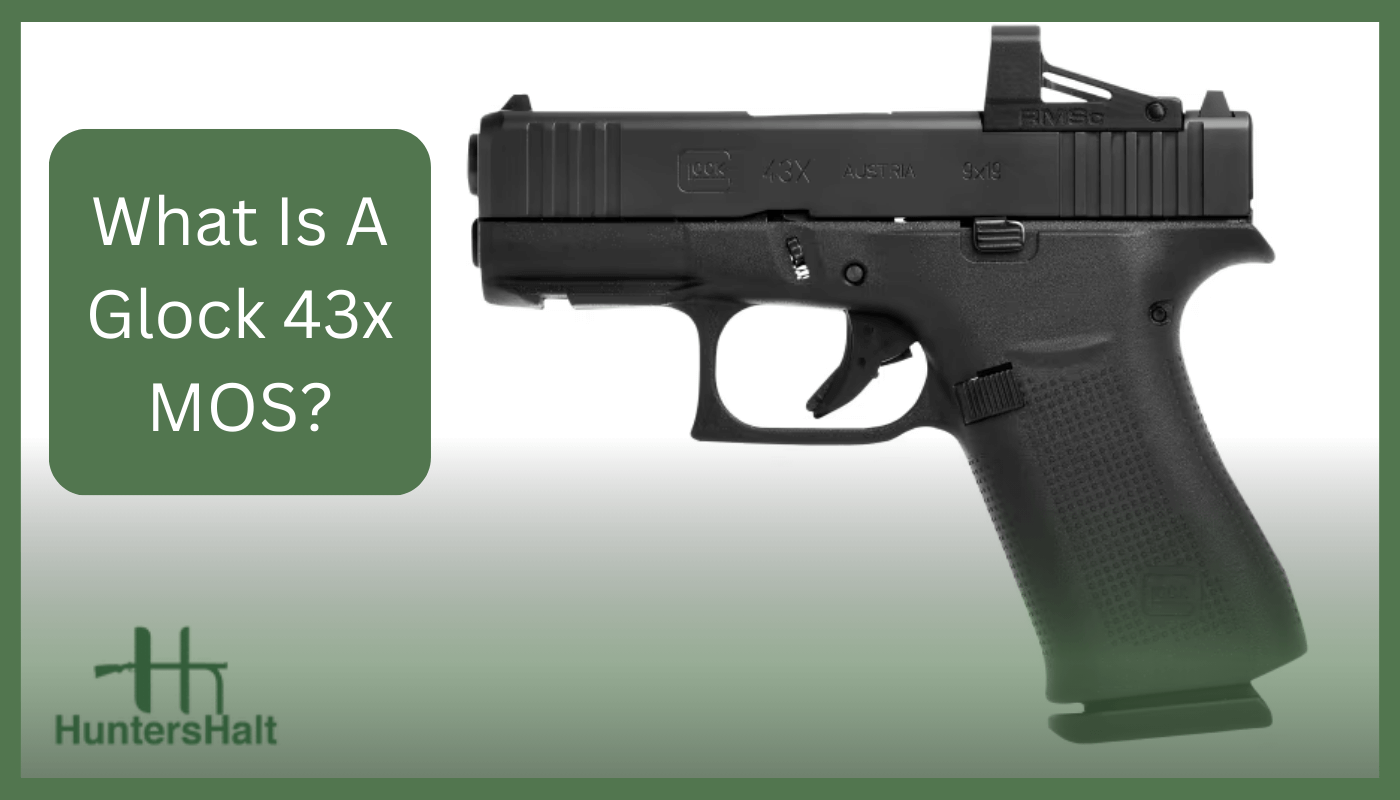 ---
Why Use A Red Dot On Glock 43X MOS?
The main advantages of mounting a red dot sight on a Glock 43X MOS include better accuracy, better low light shooting, and faster target acquisition. The biggest advantage is enhanced accuracy. The red dot provides a clear and easy-to-see aiming point that makes it easier for shooters to hit their mark.
In self-defense situations, a red dot on the Glock 43x MOS makes it easy to lock onto your threat quickly. Plus, most of the red dots shown below have a compact design that make it super easy to conceal.
---
5 Best Red Dot Sights For A Glock 43x MOS
Here are the 5 best red dot sights for a Glock 43x MOS pistol.
Shield RMSc
Holosun HS507K-X2
Trijicon RMR Type 2
Vortex Venom
Crimson Trace RAD Micro Pro
Read our expert reviews below to find out which optic is best for your specific use case. At the end of this article we'll also touch on some important factors to consider before buying your own red dot.
---
1. Shield RMSc
HuntersHalt: #1 Pick
In my experience, the Shield RMSc is the best red dot sight choice for your Glock 43X MOS. It's a compact and reliable red dot sight that is packed with notable features.
Plus, the Shield RMSc is as sturdy as it comes that makes it resistant to recoil and rough shooting environments conditions. Nobody wants an optic that's going to crack to come loose from regular use. Its compact size and low profile also make it ideal for concealed carry applications. I can't stand an excessively heavy or bulky optic on my CCW (concealed carry pistol).
As for mounting, the Shield RMSc I found it relatively easy to mount on my Glock 43X MOS. The MOS system really simplifies the attachment process (it only took me about 15 minutes)!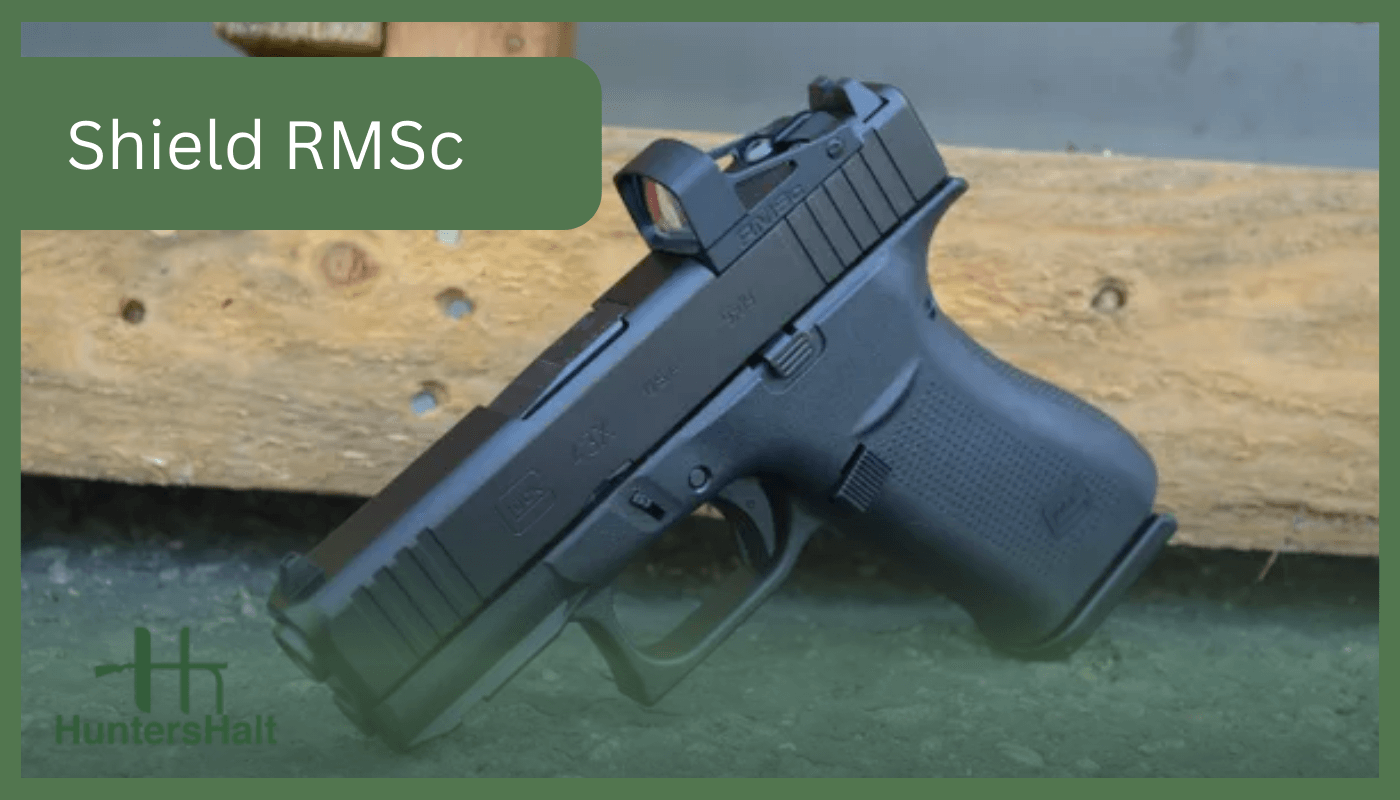 The main benefits of the Shield RMSc include its durability, lightweight design, and compatibility with the Glock 43X MOS's modular optic system. However, it may have limitations for those who prefer larger sight windows for longer-range shooting or those with vision impairments, as the small size of the sight window may pose challenges in some scenarios.
You can grab your own RMSc red dot for about $329.99. Seasonal discounts might even sweeten the deal (depending on the time of the year). In my opinion, you'll be hard pressed to find a better value for your money.
---
2. Holosun HS507K-X2
Most Durable
Holosun HS507K-X2 Red Dot Sights
Includes: CR1632 w/ Free Shipping
Pros:
Great Concealed Carry Optic

Contains Multiple Reticle System

Superior Battery Life
Shop on OpticsPlanet
Shop on Amazon
We earn a commission if you click this link and make a purchase at no additional cost to you. Thank you for supporting us - we really appreciate it!
Next on our list we have the Holosun HS507K-X2 red dot. The Holosun HS507K-X2 is known for its compact design, which is well-suited for smaller handguns like the Glock 43X MOS.
After I stress tested this red dot it became clear to me that it is nearly indestructible. You would have to go out of your way to damage the lens or housing in anyway. Plus, it provides a crisp and clear 2 MOA dot reticle which is my favorite on a pistol red dot.
I also loved that it had an ultra long battery life. And the the Shake Awake technology conserves battery life even more by automatically turning off when I'm not using it. As someone who always forgets to power off my red dot (and other things), the Shake Awake is a must.
The HS 507K is a great red dot sight option for the regular weekend range shooter or people who use their Glock 43X MOS for concealed carry or personal defense. After I tested this optic it became clear that Holosun has earned their reputation in the optic industry.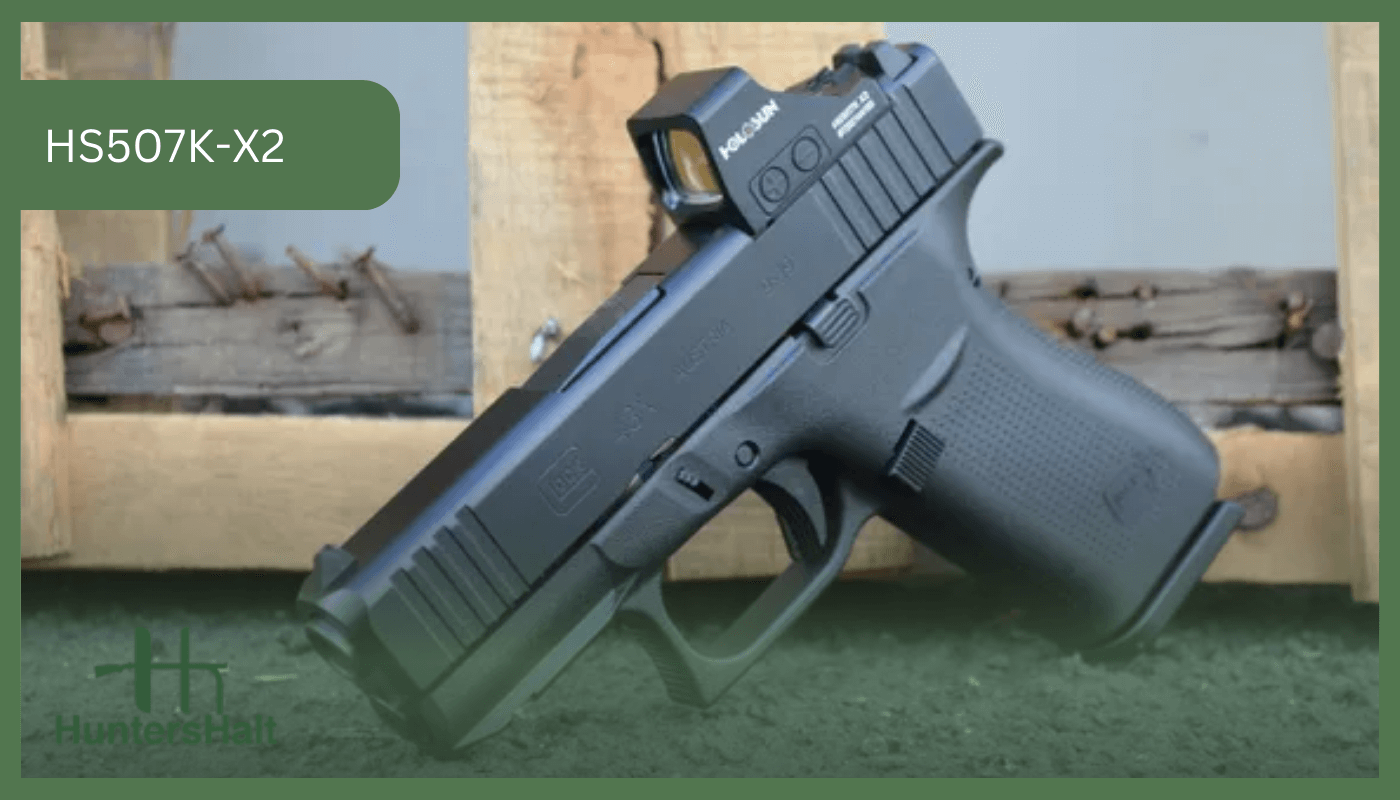 The main benefits of the Holosun HS507K-X2 include its durability, multiple reticle options, and energy-efficient technology. However, some users may find the controls less intuitive compared to other red dot sights, which can be a downside for those who prefer simpler operation.
As of right now, you can buy your own HS507K red dot for about $295.99. I doubt you will find a more durable & reliable optic for below $300.
---
3. Trijicon RMR Type 2
Most Versatile
I ranked the Trijicon RMR Type 2 as number 3 on our list of best red dots for the Glock 43x MOS. Unless you're a new gun owner, chances are you're familiar with Trijicon. They make premium, top-of-the-line sights and scopes.
The Trijicon RMR Type 2 offers a rugged and durable construction designed to withstand harsh conditions and recoil. I pulled it in & out of my holster 100s of times & have found no issue at all.
I'm also a fan of the adjustability that the RMR Type 2 provides. It comes with multiple different reticle styles that make it compatible with a range of different shooting preferences and lighting conditions. You can also adjust the reticle brightness to your liking as well. I personally just use the auto-adjust feature for convenience.
I found mounting the Trijicon RMR Type 2 on a Glock 43X MOS to be relatively straightforward. Just grab your adapter plate and secure it to your Glock. It's compatible with my favorite glock 43x mos slide as well!
The primary benefits of the Trijicon RMR Type 2 include its exceptional durability, clear reticle, versatility, and reliability. However, its high-quality construction comes with a higher price tag, which may be a drawback for budget-conscious buyers.
---
4. Vortex Venom
Most Popular
Vortex Venom Red Dot Sights
Includes: CR1632 w/ Free S&H
Pros:
Most Widely Used Red Dot

Crystal Clean Sight Picture

Long-Lasting Battery
Shop on OpticsPlanet
Shop on Amazon
We earn a commission if you click this link and make a purchase at no additional cost to you. Thank you for supporting us - we really appreciate it!
The Vortex Venom is a very reliable option for new shooters looking for a Glock 43x optic. The Venom is one of my most widely requested red dots so I had to throw it in the mix.
If you're not already familiar, the main features of the Vortex Venom include its compact design, a clear and crisp 3 MOA red dot reticle, and fully multi-coated lenses. that provide excellent light transmission and clarity. It also includes elevation and windage adjustment controls that made it super easy for me to zero & fine-tune my shots.
My biggest issue with this red dot is the location of the battery. I find bottom battery access to be a real pain. It personally drives me crazy when I need to remove my entire red dot just to change the battery out.
However, there is a reason this is one of the most popular red dot sights in the world. Although I don't think they are perfect, Vortex is a reputable manufacturer & you know what you're going to get. Check out our comparison of the Vortex Venom vs Viper red dots if you want to consider other Vortex products as well!
---
5. Crimson Trace RAD Micro Pro
Budget Friendly
I ranked the Crimson Trace RAD Micro Pro as the #5 best red dot for Glock 43x handguns. By no means is this a shot at the RAD Micro pro from Crimson Trace. This red dot offers a variety of features that make it an appealing choice for many different types of shooters.
I found the most appealing features features of the Crimson Trace RAD Micro Pro to be its compact and lightweight design, a crisp 3 MOA red dot reticle, and a motion-sensing Shake Awake technology that conserves battery life. My favorite feature is the convenient side-loading battery compartment. It took me about 60 seconds to install/swap out a battery!
The biggest downside in my opinion is the lack of reticle adjustability. Some shooters may find the 3 MOA dot size a bit larger than they prefer. But this really comes down to personal preference. But it was good enough for me to also rate it one of the best P365 red dots as well.
You can buy your own Crimson Trace RAD Micro Pro for about $249.95 ( as of publishing date). This is the most budget friendly Glock 43x red dot I tested. Personally, I think this is a great option for beginners & shooters shopping on a smaller budget.
---
What Should You Consider When Shopping For A Glock 43x MOS?
Here are several important factors to consider when shopping for a new Glock 43x MOS red dot optic.
Compatibility. Ensure that the red dot sight you select is compatible with the Glock 43x MOS.
Reticle Size and Shape. Consider the reticle size (measured in MOA) and shape (dot, circle-dot, crosshair, etc.).
Durability. Look for a sight with a durable construction, preferably one that can withstand recoil, harsh weather conditions, and rough handling (in & out of holster).
Adjustability Settings. Ensure the sight has adjustable brightness settings to accommodate different lighting conditions.
Price. Pick an optic that fits your personal price constraints. Price does not necessarily indicate performance.
User Reviews: Always read user reviews and expert opinions to get other opinions! Also check the warranty terms and conditions.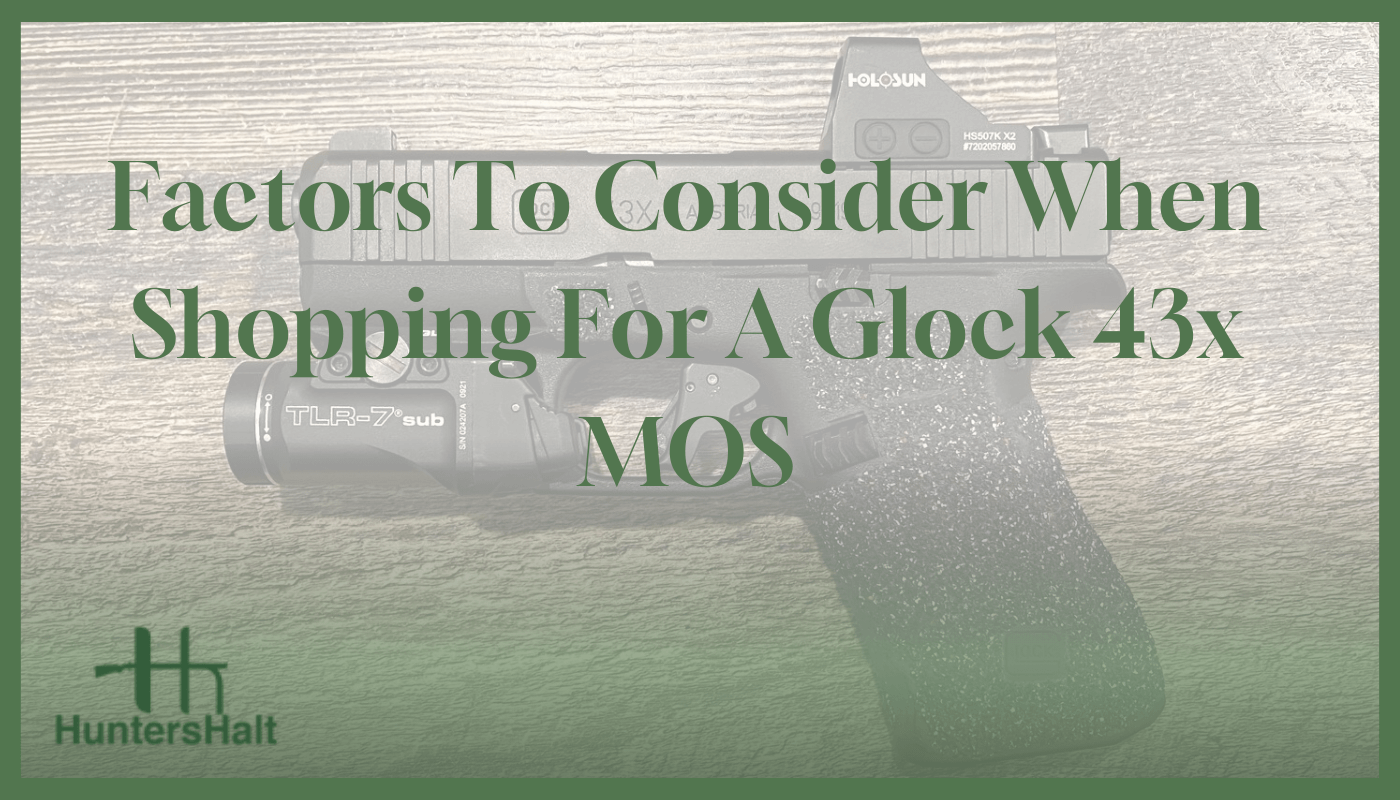 ---
Do Cheaper Glock 43x MOS Red Dots Function Properly?
Most budget friendly Glock 43x red dot options function great! However, the functionality of cheaper red dot sights can vary widely. I have found that some budget options can certainly perform well while others are missing great features.
There are certain features that premium red dot sights often offer that you probably wont get with cheaper pistol red dot alternatives. This includes superior build quality, shake awake technology, and improved adjustability.
---
Are Glock 43x MOS Slides Red Dot Compatible?
Yes, Glock 43x MOS slides are red dot compatible. The special MOS (Modular Optic System) configuration makes it very easy to mount a variety of red dot optics. There are still a few optics (like Trijicon RMR Type 2) that will need an adapter plate. I always recommend new shooters understand their red dot sight footprint before buying an optic.
The Glock 43x MOS is also compatible with other types of accessories, such as tactical lights, night sights, and lasers.
Frequently Asked Questions
---
Why Is Battery Life Important On A Red Dot Sight?
Battery life is crucial on a red dot sight because it determines how long the sight can operate before needing a battery replacement or recharge, ensuring reliability during extended use and critical situations.
Do Any Glock 43x MOS Red Dot Optics Not Need An Adapter Plate?
Some Glock 43x MOS red dot optics may not require an adapter plate if they are specifically designed to fit the Glock MOS system, using the provided mounting plates to attach directly to the slide.
---
The Bottom Line
Picking a red dot sight for your Glock 43x doesn't need to be complicated. After putting these 5 optics to the test (range, durability, adjustability, accuracy, etc.), I think the Shield Sights compact reflex mini red dot sight is the best option. I found this red dot to check all the boxes! Plus, the price is very reasonable for such a feature packed red dot. But if you're looking for a premium red dot & have a bigger budget to play with, consider the Trijicon RMR. Pick the best optic that fits your specific needs & use case!