The HK VP9 is a very popular semi automatic pistol that is manufactured by a company called Heckler & Koch. This German firearms company has earned their reputation for creating high quality weapons.
However, no pistol or rifle is perfect. The HK VP9 is known to have period issues with trigger reset, misfires, ammo ejection, broken slide releases, and more!
In this article, we will cover these HK pistol issues in more detail as well as how to fix them.
---
What Is The HK VP9?
The HK VP9 is a semi-auto handgun created by Heckler & Koch (HK). In normal conditions, the VP9 is an extremely reliable pistol used in a variety of situations.
In fact, this polymer-framed handgun was originally created for personal defense, law enforcement, and military use. Today it has gained tremendous popularity as a concealed carry gun.
This pistol is often paired with the Holosun 508t or 507c & features a customizable grip, ambidextrous controls, a crisp trigger, and a variety of different safety features. However, there are common problems that shooters encounter with this handgun.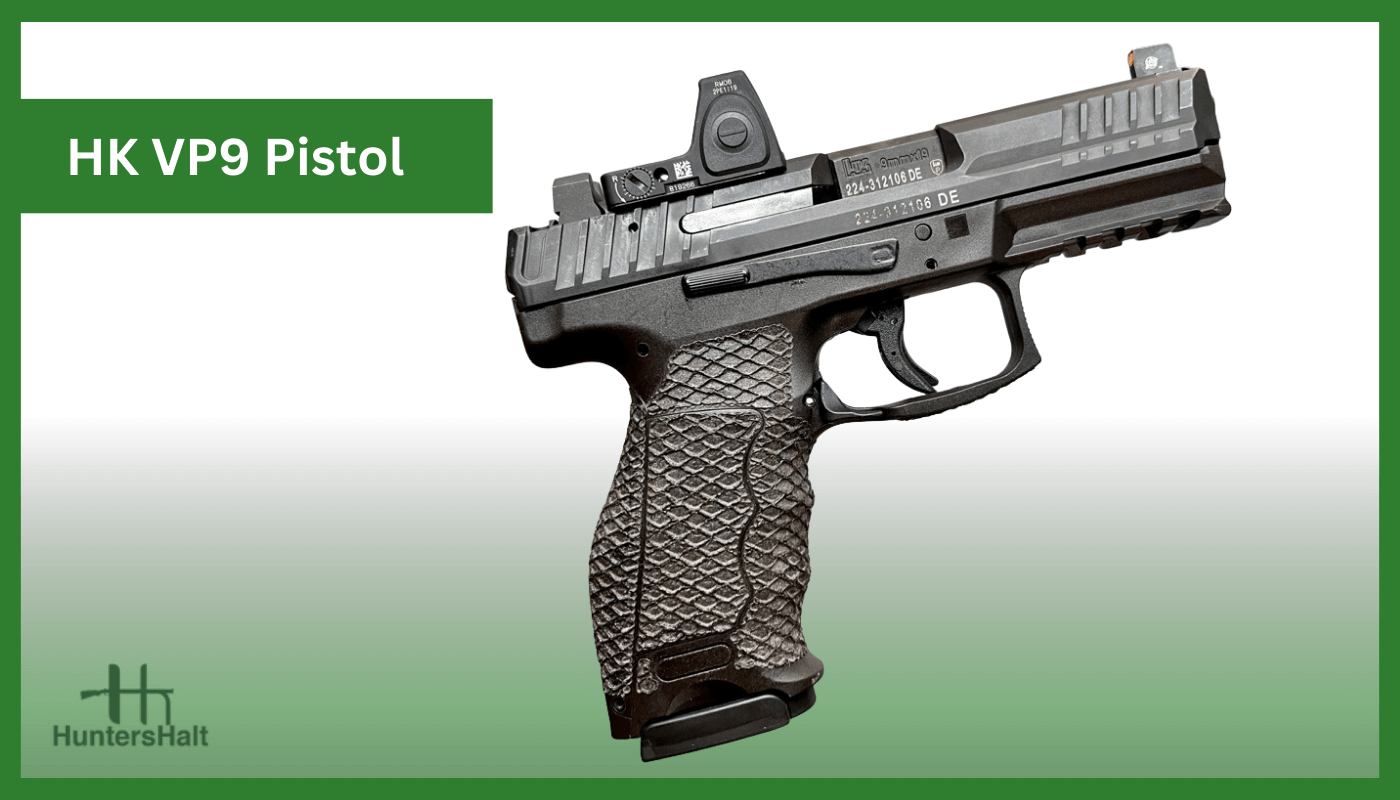 ---
5 HK VP9 Problems Shooters Encounter
Here is a list of the most common HK VP9 issues shooters face.
Issues With Trigger Reset
Unintentional Misfires
Problems With Ejecting Ammo
Broken Slide Release
Excessive Shock & Vibration Issues
---
1. Issues With Trigger Reset
The trigger reset on a pistol is the exact point where the trigger re-engages after firing a shot. It has to work properly in order for the pistol to fire the next shot. If the trigger reset is broken there are several different problems that can occur. This is also one of the most common PSA dagger problems as well.
Failure to reset
Inconsistent reset point
Audible feedback loss
Reduced shooting speed & accuracy
Solution Options
If your VP9's trigger reset is broken, you'll likely have to get your gun repaired by a qualified gunsmith. You could also attempt to engage your manufacturer & enforce your warranty.
---
2. Unintentional Misfires
Unintentional misfires on an HK VP9 pistol are when a round if fired without the shooter intentionally pulling the trigger. This was also a common Taurus G2C problem as well. For obvious reasons, this is a serious issue and could potentially cause injury or property damage. The most common cause of misfires include:
Mechanical problems
Improper maintenance
Wrong or faulty ammunition
Solution Options
First off, you should always be aware that misfires can happen with any striker fired pistol. Be sure to have your weapon pointed away from people at all times!
To prevent future misfires you should say on top of your periodic cleaning and maintenance. Remove any visible debris and look for damage to the pistols chamber. If you still have problems, seek out a qualified gunsmith or contact the manufacturer's customer support to get the problem fixed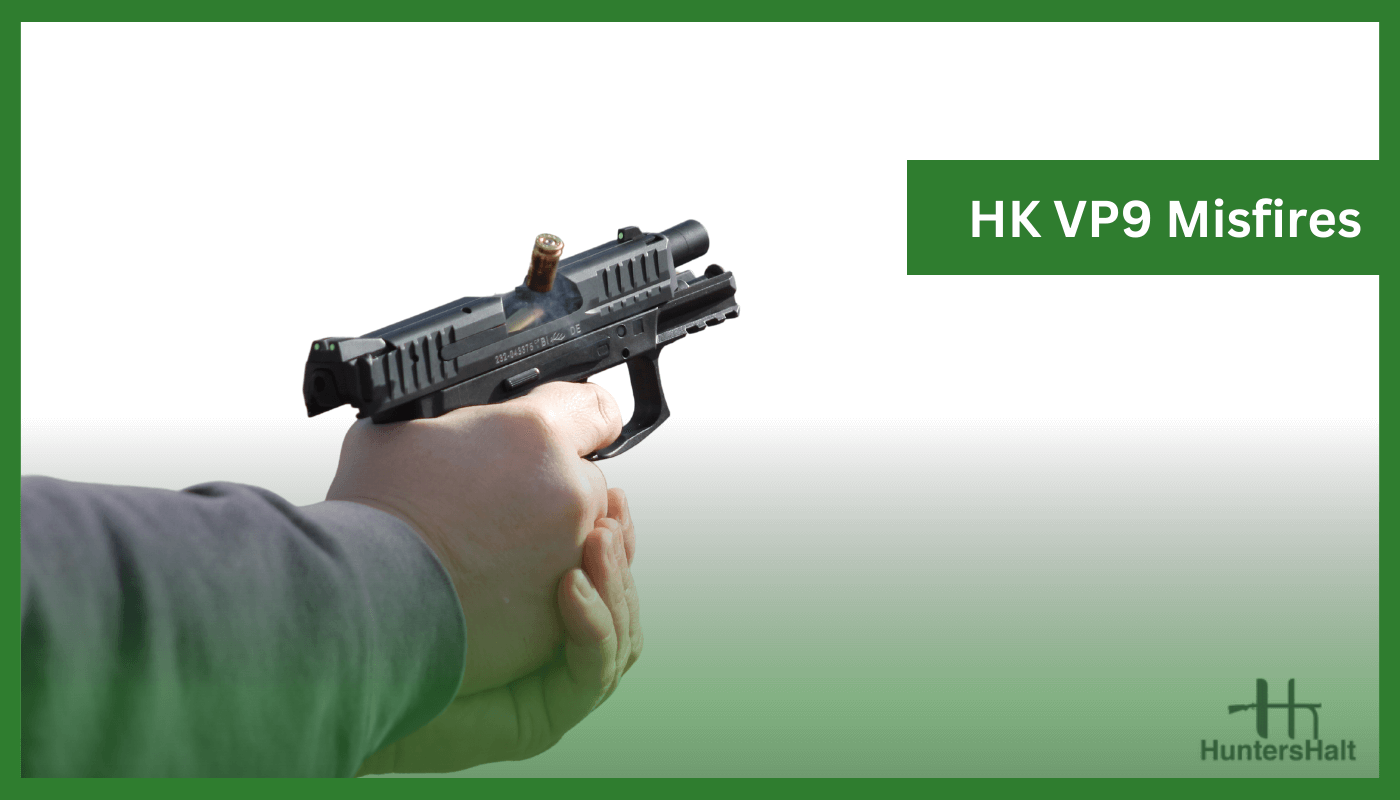 ---
3. Problems With Ejecting Ammo
In a properly functioning VP9, the spent casings should be ejected from the pistol after firing each round. A failure to eject means that the spent casing remains partially or fully stuck inside the ejection port. If this happens the next round will not be able to load properly. We also saw a similar accidental ejection issue as one of the primary Bond Arms Derringer problems as well.
Solution Options
The first thing you should do is verify that the problem is related to the ejection process and not an ammo or magazine problem. Using the wrong size ammo can cause ejection issues.
Using a proper grip & shooting technique can also help fix this problem. Take the time to learn how to hold a handgun. Holding the pistol with a firm and consistent grip to allow for proper cycling and ejection. If all else fails, contact HK's customer support.
---
4. Broken Slide Release
A slide release is the mechanism on the VP9 that is responsible for locking the slide back in place after the previous round is fired. It is also known as the slide stop or slide lock. This is also a common Ruger LCP Max problem as well. When this piece is damaged on your VP9 is can result in a few different concerns.
Can't lock slide back
Can't release the slide
Potential safety issues
Solution Options
The first thing you should do is inspect the slide release for any visible damage, wear, or deformation. If there are any missing or damaged parts they will need to be replaced. Contact HK's customer service or a gunsmith if any major repairs are needed.
---
5. Excessive Shock & Vibration Issues
All handguns vibrate when they are fired. However, excessive shock and vibration issues on an HK VP9 pistol is when an unusually high amount of recoil, impact, or vibration occurs. This can be an issue for several issues.
Poor accuracy
Excessive wear & tear
Hand & wrist injuries
Solution Options
If this is happening with your VP9, double check you are using the proper shooting grip & type of ammunition. Otherwise, there are accessories to help reduce recoil like pads, muzzle brakes, and compensators that can help.
Generally speaking, vibration is a natural result of firing a weapon & cannot be completely eliminated.
---
How Is HKs Customer Support?
HK has a top notch customer support team that has proven to be extremely responsive. They have a strict policy to repair or replace any defect in materials or workmanship.
In my personal experience, I called HK customer support about an issue with my trigger guard & was pleasantly surprised with their response. They were extremely helpful in getting my parts replaced and even gave me a gift card for my next purchase. Hard to complain about that!
---
Is Heckler & Koch A Good Company?
Heckler & Koch is a great firearm manufacturer with a spotless reputation. They produce top quality handguns compared to other pistols & firearm brands. Here is a list of there most popular products.
Handguns
Rifles
Submachine guns
Grenade launchers
HK is a German based company that manufacturers the majority of their equipment in Germany. Their stringent quality standards help them produce very reliable firearms.
---
When Was HK Founded?
Heckler & Koch (HK) was founded on December 28, 1949. The company was established in Oberndorf, Germany. Today, they are most known for their high-quality craftsmanship, creative designs, and responsive customer service.
---
How To Improve Your HK VP9
The two best HKVP9 upgrades are to incorporate night sights or have your firearm milled to fit a pistol red dot sight.
Mounting new pistol night sights is a great way to improve accuracy in low lighting environments. This is very popular amongst shooters that utilize their VP9 for home defense.
You can also get your HK VP9 custom milled to fit the popular red dot sight optics like the Vortex Venom or Burris Fastfire red dots.
---
Benefits Of Using An HK VP9
Here is a list of the main benefits of using an HK VP9 pistol.
Ergonomics: The VP9 has an adjustable grip system with interchangeable backstraps and side panels.
Reliability: The VP9 is extremely reliable & is used by both military and law enforcements.
Magazine Capacity: The VP9 typically comes with magazines with high capacities that can accommodate 15+ rounds.
---
Who Is An HK VP9 Best For?
These benefits make the HK VP9 a great pistol for several different types of people. Here is a list of the most common VP9 use cases.
Concealed carry & self defense
Range shooters
Military & law enforcement
---
Frequently Asked Questions
Is the HK VP9 suitable for concealed carry?
Yes, the HK VP9 is suitable for concealed carry. The lightweight & compact design make it perfect as an CCW.
What is the capacity of the HK VP9 pistol?
The standard magazine capacity of the HK VP9 is typically 15 rounds, although higher capacity magazines may be available in certain states & jurisdictions.
Is the HK VP9 expensive?
The HK VP9 is fairly priced at $500 - $700. There are certainly more expensive pistols on the market.
---
The Bottom Line
The HK Vp9 is a very reliable pistol that is widely used. Generally speaking, this is a great gun that can be used effectively in a variety of different situations. However, there are some common challenges with the VP9 that shooters encounter time and time again. Use our list of problems and fixes to help troubleshoot your personal pistol!