Holosun makes some of the best red dot sights, like the Holosun 507c. Some of these optics come with 10 different brightness settings, night vision settings, different reticle options, and more!
But do you know how to turn off Holosun red dot? Don't be embarrassed if you don't. In this post, we'll teach you to operate your brand-new Holosun red dot sight!
How To Turn Off Holosun Red Dot
Short answer: Press down the "+" and "-" buttons at the same time!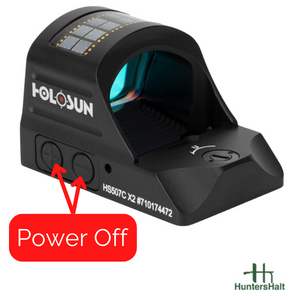 This will disable the automatic or shake-awake features on your optic. The motion sensors will be totally disabled at this point. If you only hold the "+" button down your optic will go into lockout mode.
How To Turn Off Solar Power
Holosun's Solar Failsafe allows the optic to remain powered when your battery fails. This technology uses a combination of solar cells and a super capacitor to provide power to the optic even when no battery is present. This ensures that your optic is always ready for use, even in emergency situations. It also makes Holosun one of the best red dot sights for fixed front sight AR-15 rifles!
The Solar power Failsafe will turn off when you power off the optic manually. Press and hold the "-" and "+" buttons at the same time. Follow these steps for your Holosun 507 red dot sight.
Holosun Red Dot Adjustment Guide
Holosun optics make for some of the best 300 blackout optics because of their advanced adjustability. There are two main methods of adjustment.
Reticle Adjustment: Many of the optics come with reticle options, take the 407k or 507k for example. If for example, your optic has a 2 MOA dot with a 32 MOA circle as the default reticle, follow this guide to change it.
Hold 3 Seconds: Creates just the 2 MOA dot
Hold 3 More Seconds: Creates just the 32 MOA circle
Brightness Adjustment: Depending on the lighting conditions, shooters may need to adjust their sights brightness. For example, in low light situations, you may need to increase the reticle brightness. To do this, simple click the "+" or "-" sign accordingly.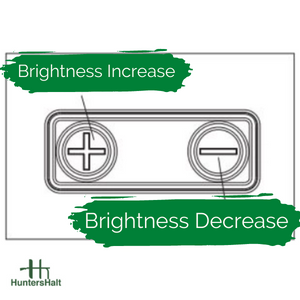 Frequently Asked Questions
Do Holosun red dots turn off?
Most Holosun red dot sights will automatically turn off after a certain period of time if they're not being used. This helps to save on battery life, and it's a great feature to have if you plan on using your sight for extended periods of time. However, there may be some models that don't have this feature, so it's always important to check the specs before making a purchase.
How long does Holosun stay on?
The answer is it depends on the settings you choose for your optic. The power can be set to turn off at 10 minutes, 3 hours, or 12 hours. This sleep mode is perfect for saving battery power.
How long does a Holosun red dot last?
The Holosun 507c is made to last 50,000 hours at low brightness settings. That's over 5 years of continuous use. The Holosun red dot is designed to last for up to 50,000 hours of use before burning out.
What is Holosun lockout mode?
If you hold down the + button for 3 seconds your Holosun will go into lockout mode. The lockout mode will prevent you from being able to change to brightness settings and other adjustment features. This can be helpful for people the shoot in consistent light conditions.
Is Holosun used in the military?
Yes, Holosun is used by military and law enforcement personnel all over the world, as well as regular civilians. Its tough construction and dependability make it a favorite choice for anyone who needs a reliable optic.
---
The Bottom Line
The Holosun optics are equipped with advanced features like Shake Awake and Solar FailSafe technology. This makes them the best option for a canik tp9sfx red dot. These features produce one of the best battery power lifespans of any AK 47 optic on the market today. However, there are situations when you might want to completely power off your optic. Follow these instructions and you should have no problems!