The Vortex Venom red dot sight is one of the most popular optics on the market today. Hunters & range shooters of all experience levels utilize this fairly priced optic to improve accuracy.
If you just purchased your own Vortex Venom red dot, this guide is for you. In this post, we'll teach you how to turn off your Vortex Venom in a few easy steps!
---
How to Turn Off a Vortex Venom
In order to power off your Vortex Venom red dot, press and hold the "down arrow" for at least 5 seconds. The down and up arrow are located on the side of your red dot sight. This optic is super easy to use, which is why I rated the Venom the best affordable pistol red dot that I've tested!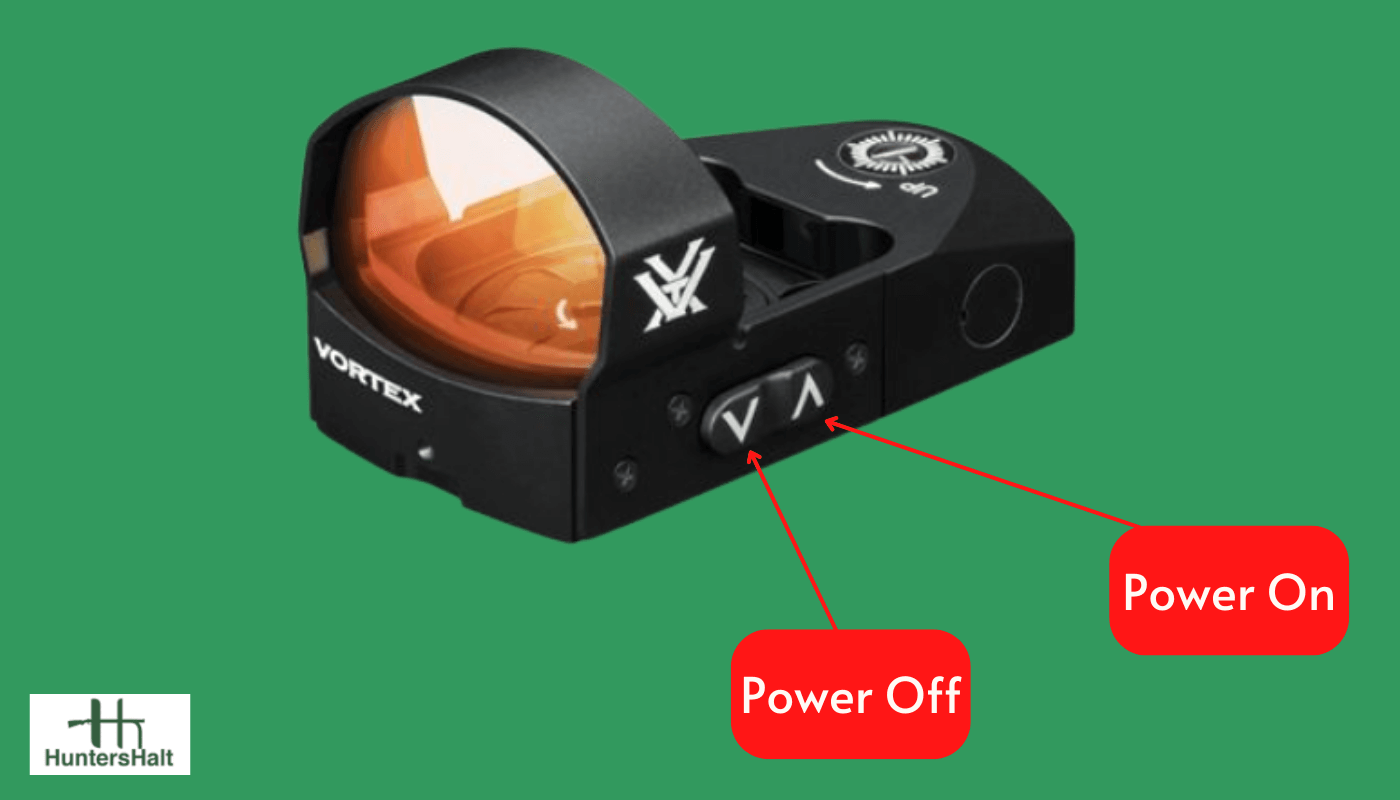 The Venom red dot sight also comes with a protective cover. The cover is perfect for protecting your optic lens from daily wear and tear.
Auto-mode: Placing the cover will power off the red dot.
Manual mode: Placing the cover will NOT power off the red dot.
---
How To Turn It On?
Turning your Vortex Venom red dot on is just as simple as turning it off! Grab your 3 MOA red dot and locate the adjustment arrows.
Press and hold the "up arrow" or the "down arrow" for at least 5 seconds. Pressing either button will power on your Venom red dot sights. We learned in our comparison of the vortex venom vs burris fastfire 3 red dots that it is easy to power on and off!
---
Auto vs Manual Mode
The Vortex Venom is a reflex sight that has an automatic mode and a manual mode. The automatic mode will adjust the brightness of the dot depending on the ambient light conditions, while the manual mode allows you to set the brightness of the dot to your desired level. This adjustability makes the Venom one of the best reflex shotgun sights that I've tested in the past!
The auto-brightness feature is used by most shooters because it makes things simple. Enter a dark room, the dot intensity goes down. Enter a bright room and the dot intensity goes up. In our post comparing leupold vs vortex scopes you learn that not all brands have this advanced functionality!
Auto Brightness Mode: Hold "up arrow" until the reticle flashes 3 times.
Manual Mode: Hold "up arrow" until the reticle flashes 2 times.
---
Make Brightness Adjustments
Operating the Vortex Venom red dot is a straightforward and reliable way to ensure accuracy when shooting.
The up and down arrows on one side of the device make brightness adjustments quick and convenient – simply hold them down for three seconds and you can alter the illumination to reach your desired lighting level. This holds true for most types of red dot sights as well!
Thanks to these easy-to-use functions, visibility should never be an issue when using a Vortex Venom red dot sight. Whether you're out in bright daylight or targeting during lowlight hours, you can adjust your dot intensity to get rid of a blurry red dot! As I found in my comparison of Vortex Venom vs HS507c, most mini red dot sights do not have this level of adjustability.
---
Problems With Vortex Venom
No optic is perfect. There are Vortex Venom red dot problems just like there are issues with every optic. Vortex optics are made around the world, but normally have competitive quality standards. Here are some of the common issues shooters encounter:
Windage & elevation adjustment doesn't work
Battery dies faster than advertised
Red dot intensity adjustments don't work
---
Frequently Asked Questions
Does Vortex venom turn itself off?
Yes, the Vortex Venom will automatically turn off after 14 hours. This is to conserve battery life and ensure that your sight is ready when you need it. However, there are people who have reported that their Vortex Venom red dot turns off in less than 14 hours. If you don't want to rely on the auto mode, simply put your optic in manual mode and power it off yourself.
Does the Vortex venom have Shake Awake?
No, the Vortex venom red dot does not have shake-awake features. While this may be a desired feature for some shooters, it is not a necessary function for most. There is an auto brightness and auto-shutoff mode to save battery life!
Is Vortex venom waterproof?
The Vortex Venom is not only waterproof, but it is also shockproof and fog proof. For the price, you will be hard-pressed to find an optic more durable than the Vortex Venom red dot sight.
How long does Vortex Viper battery last?
Vortex Viper's battery can last up to 30,000 hours on low brightness. Even if you run a higher brightness setting the battery life is still great and should last for years.
---
The Bottom Line
Now you should know how to adjust the basic features on your Vortex Venom red dot sight. Although the auto-mode will help save battery life, there are times when shooters want to power their optic down completely. Follow these steps to turn off your Vortex Venom optic & let us know if you have any questions!