The truth is that most of my readers simply can't afford the $2,000+ rifle scopes that other sites often talk about. That is why I do my best to review budget sights & scopes whenever I get the chance. Pinty's 3-in-1 rifle scope combo is one of the most popular budget-friendly scopes on the market today. In this Pinty scope review, I'll break down this optic to help you determine if it's right for you!
---
Scope Overview & Breakdown
Best 3-in-1 Scope
We earn a commission if you click this link and make a purchase at no additional cost to you. Thank you for supporting us - we really appreciate it!
The first thing I noticed after unboxing this Pinty scope is how much you get for your money. For under $100, you get a scope, red dot sight, green/red laser, rail mount, and batteries. I have tested several of the best rifle scopes for under $300, but you will be hard-pressed to find another optic manufacturer provide more for this price range.
Here is a brief overview of this Pinty rifle scope:
Size: The rifle scope itself is about 12″ long & roughly 3″ tall with the red dot sight mounted on top. I found the size to be pretty much standard as rifle scopes of this magnification come.
Magnification: The scope itself comes with 3-9x magnification and a 32mm objective lens. The variable zoom has been great and allows me to comfortably shoot from 100-300 yards. Although I have to admit my shooting skills are probably holding me back from shooting even further. The 32mm lens is great for allowing more light into the scope for afternoon shooting and is pretty consistent with what I've seen on other great elk hunting rifle scopes that I've tested.
Adjustments: The adjustability of this Pinty rifle scope is the main benefit that sets this optic apart from its competitors. I recommend taking the time to toggle all the adjustment features to suit your particular needs and use
Red Dot Reticle Adjustability (Shape & Color)
Windage and Elevation Adjustability
Zoom Adjustability
Brightness Adjustability (Scope & Red Dot)
Red Dot Reticle: The red dot sight comes with 4 different reticle options. This allows you to pick the reticle pattern that best suits your eye. You can also choose between red or green illumination depending on the lighting you're shooting in.
Laser: Depending on the package you order, you will receive a green laser or a red laser. Take a few minutes to get your laser sighted in and it will be fantastic for close to medium-range shooting.
---
My Pinty Scope Review – What I Like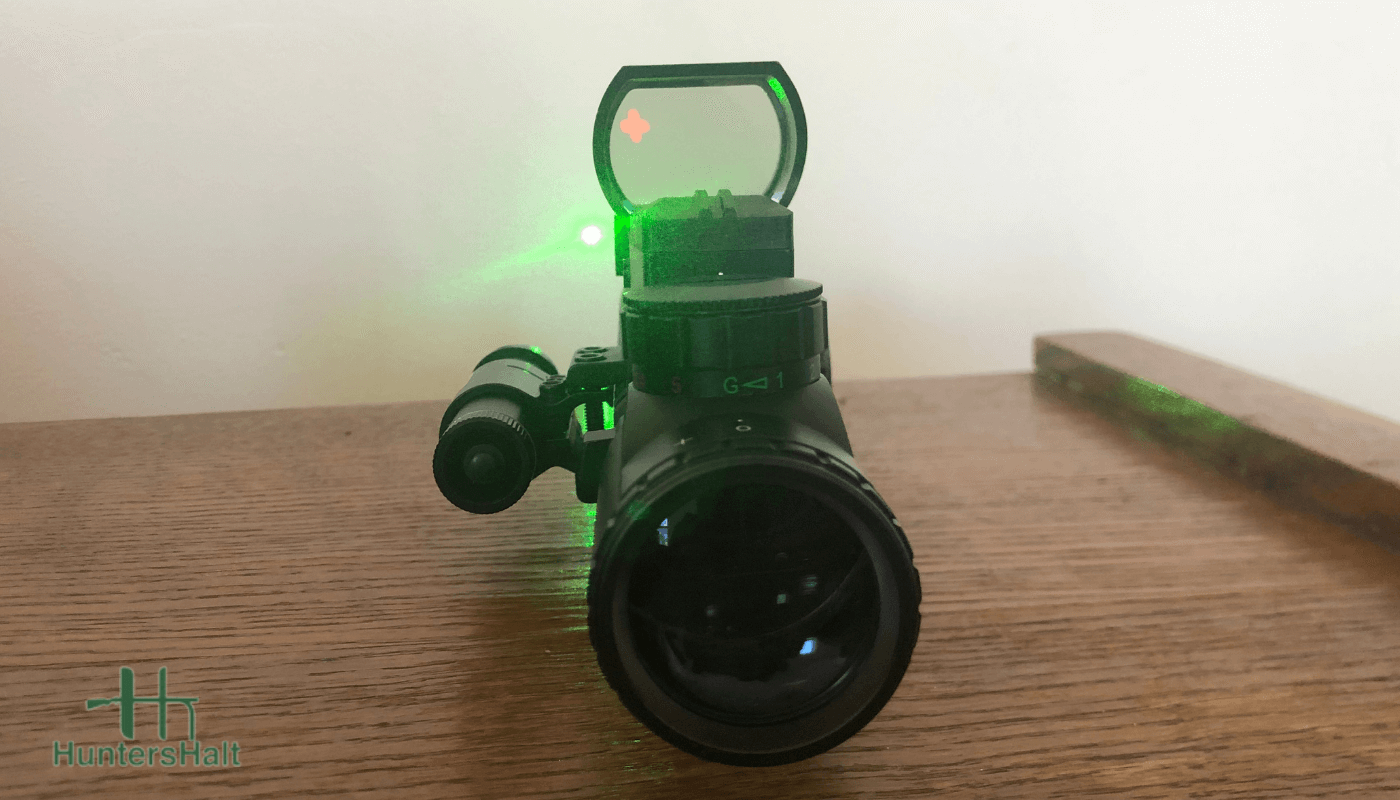 After spending some time testing this Pinty scope on my own rifles, there were a few main benefits that stuck out.
1) Versatility
The 3-in-1 (scope, red dot sight, laser) combination makes this scope optimal for just about any situation.
Scope – Long Range
Red Dot Sight – Medium Range
Laser – Close Range Target Acquisition
Compared to the other scopes I've tested, this Pinty optic has a wide variety of use cases. I personally love this scope for my range sessions. But it would be just as easy to quickly toggle from the scope to your laser or red dot sight for a home defense situation. Be sure that you know how do rifle scopes work to get the most out of your scope!
Plus, the scope features O-ring sealing technology so it is water and fog proof.
2) Affordable Price Tag
If you're like me, then you're shopping on a budget. One of the first things I noticed in this Pinty scope review is the fair price tag. For less than $100 you get a great combo optic that works in a wide variety of situations.
If we are being honest, there are far too many shooters thinking they need a $2,000+ rifle scope. The truth is there are diminishing returns on the super high-end scope manufacturers. Unless you have the sniper training of a Navy SEAL, chances are this Pinty scope is more than good enough!
If you're looking for a reliable and affordable option for rifle scopes, then you should certainly consider Pinty.
3) Compatibility
This rifle scope will fit just about any rifle.
Depending on your rifle, this scope can be easily mounted onto your Picatinny or Weaver rail. Remember this cannot be used as a break barrel air rifle scope! You can easily swap out your old scope for this new Pinty optic before the next hunting trip or range session.
---
How To Assemble
Here is exactly how to assemble and mount your Pinty scope. The whole process probably took me about 20 minutes from unboxing to mounting on my AR.
1) Grab Your Attachments
The first thing you need to do is unbox everything and lay your scopes & attachments out on the table.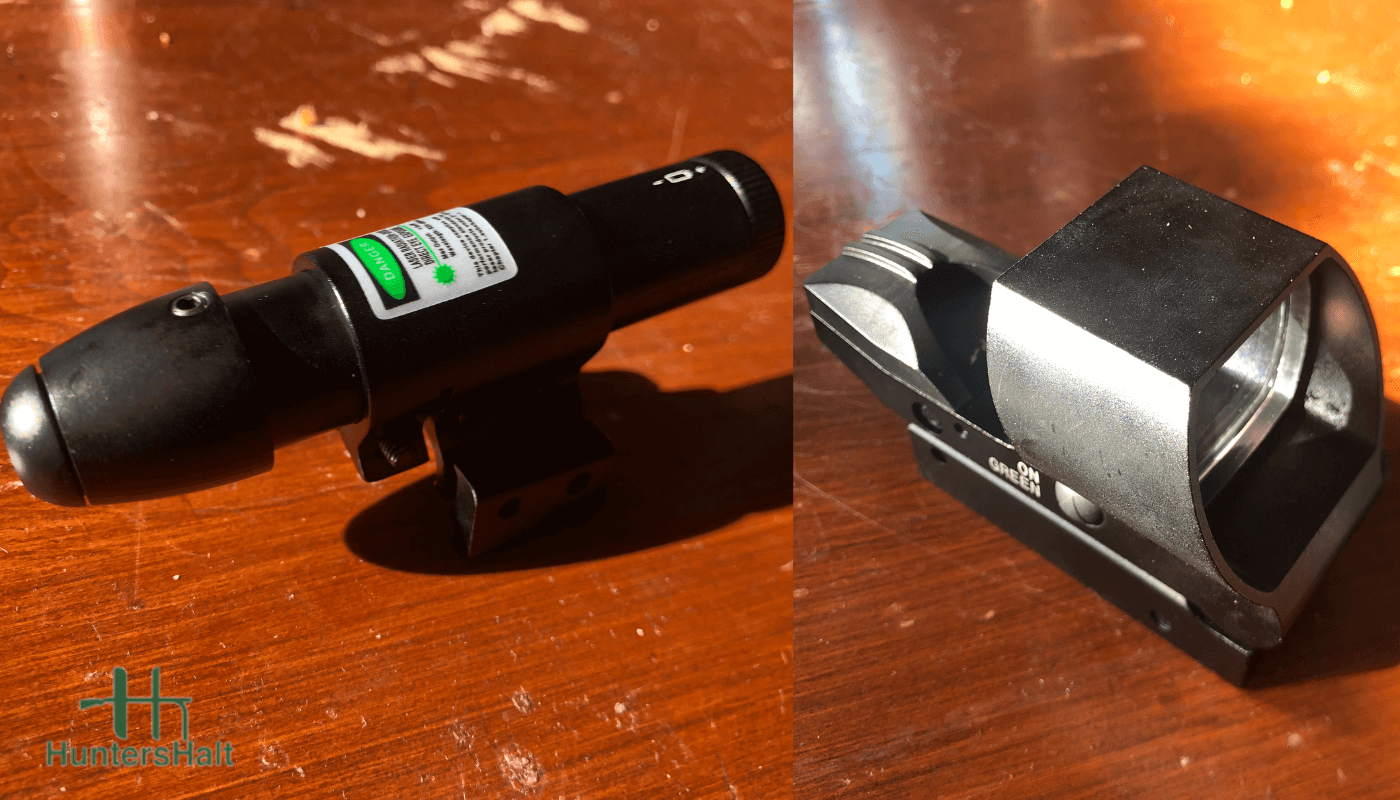 2) Mount The Red Dot Sight
Next, I like to mount the red dot onto the 3-9×32 rifle scope.
Place the red dot on top of your scope.
Tighten the red dot sight into place using the larger allen wrench.
If you're not a fan of laser sights, you can mount the scope and red dot alone onto your rifle.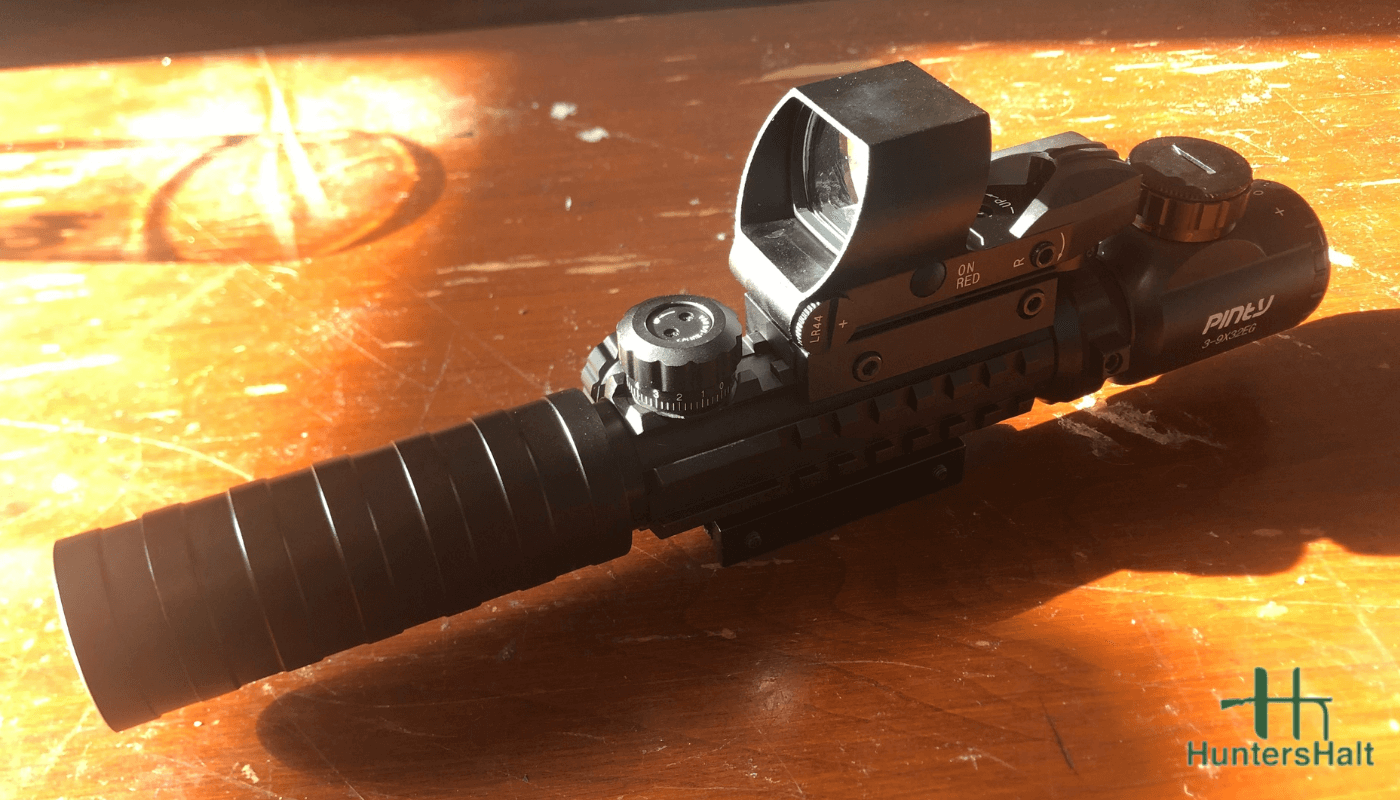 3) Mount The Green Laser
Now it's time to mount your laser to your scope. The laser is mounted on the side of the scope, perpendicular to the red dot.
Place the green laser on the side scope rail.
Tighten the screws using the medium to large allen wrench.
If you need to make windage and elevation adjustments to your laser sight, use the tiny key and adjust the laser.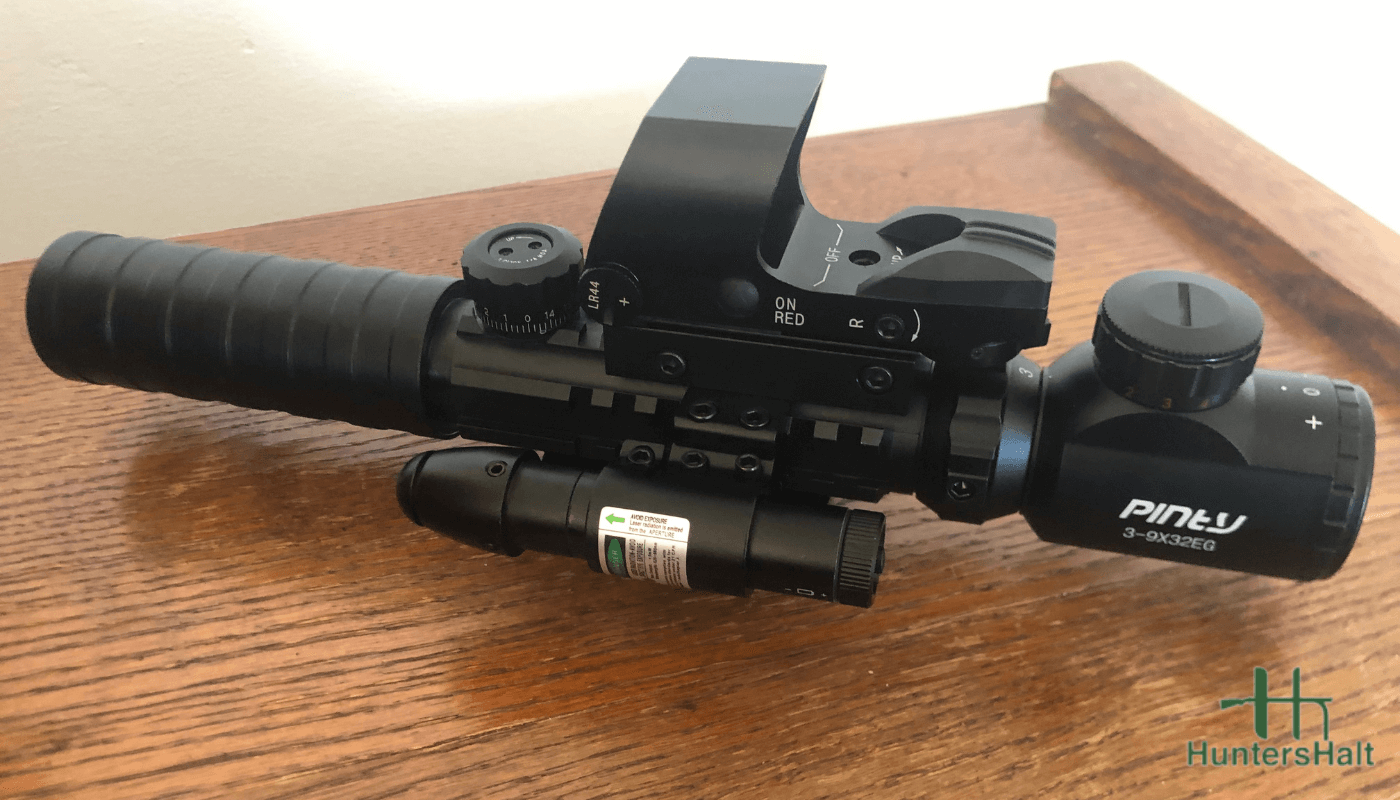 4) Mount On Your Weapon
Finally, mount the scope to your rifle of choice.
---
Frequently Asked Questions
Are Pinty scopes any good?
Pinty makes a variety of sights & scopes that are great for beginners and experienced shooters alike. Pinty optics make durable and versatile optics for hunters, range shooting, and other applications.
Do Pinty scopes hold zero?
From my experience, Pinty scopes absolutely hold their zero. Most of their scopes are compatible with a Picatinny mount, which is the most common scope mount. Pinty scopes hold their zero much better than other budget optics.
Where are Pinty rifle scopes made?
Pinty rifle scopes are made in China. This is pretty normal when it comes to scopes for riffles and air rifles that I've tested. China manufacturers get a bad wrap. But Pinty does a great job of maintaining a certain quality standard to make reliable optics.
---
The Bottom Line
All-in-all this rifle scope from Pinty is a great scope for many different applications. I know it will be making its way onto my next hunting trip! Plus, you can't beat the fair price tag. Be sure to check out our guide on how to reset a scope to factory zero if you need to calibrate your Pinty scope. After putting this scope to the test, I can say that I recommend others give it a try as well!
Best 3-in-1 Scope
We earn a commission if you click this link and make a purchase at no additional cost to you. Thank you for supporting us - we really appreciate it!