The PSA Dagger is a compact handgun created by Palmetto State Armory (PSA). This weapon has gained significant popularity as a compact and versatile personal protection gun.
However, like any other device, it is not exempt from encountering its fair share of issues. The most common PSA Dagger problems involve the build quality, accuracy, frame, trigger, and slide issues.
Understanding the common problems with the PSA Dagger is very important for gun owners. In this post, we'll breakdown the most consistent problems with the PSA Dagger.
---
What Is The PSA Dagger?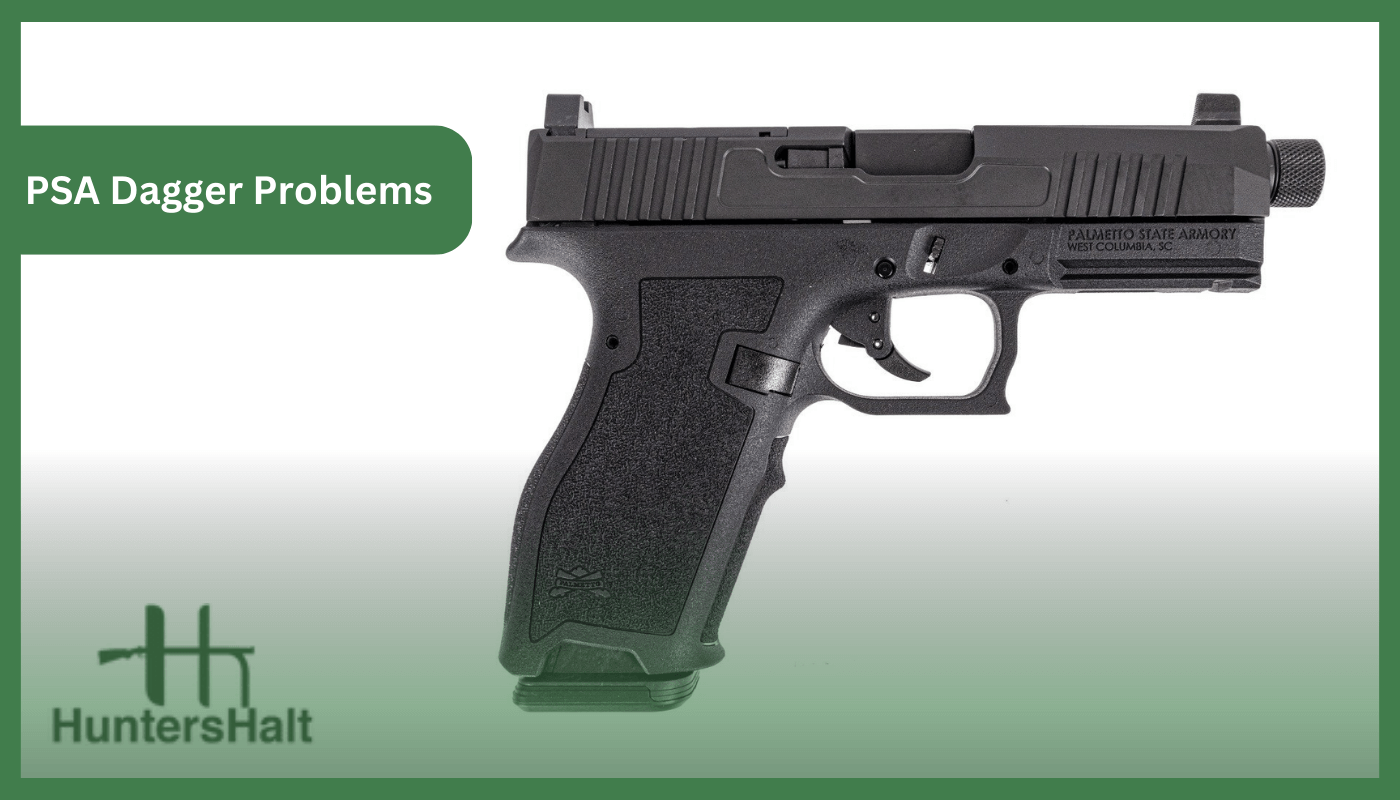 The Palmetto State Armory Dagger is a compact pistol used for a variety of reasons. The PSA Dagger was originally invented in 2020 & was intended to be a direct competitor for the Glock 19.
This striker fired pistol is designed with a lightweight black polymer frame that makes it extremely portable. The PSA Dagger features a 15 round magazine that should be more than enough for self-defense and range shooters.
Palmetto State Armory also offers multiple different versions of this pistol to meet the needs of their various customers. For example, you can take you pick of threaded barrels, material finishes, and optic cut slides.
---
Biggest PSA Dagger Problems
Here is a list of the biggest PSA Dagger problems.
Build Quality & Reliability
PSA Dagger Accuracy Problems
Problems With PSA Dagger Frame Design
Issues With PSA Dagger Trigger
PSA Dagger Issues With The Slide
Remember, not all PSA Daggers will run into these issues. However, if you do encounter a malfunction you can use our solutions to get your weapon fixed!
---
1. Build Quality & Reliability
The build quality of a handgun refers to the overall construction, materials, and craftsmanship. Build quality affects many different factors such as durability, reliability, precision, fit and finish, and attention to detail.
Some shooters have reported general issues with the construction of their PSA Dagger. This includes damaged parts, malfunctions, and low reliability. However, these problems are generally very rare and are not something I experienced with my own PSA Dagger. Shooters also reported similar CZ P-07 problems in terms of build quality as well. 
---
2. PSA Dagger Accuracy Problems
Accuracy refers to a shooters ability to align their sights with the desired point of impact. The firearm itself always plays a major part in how accurately a shooters can fire tight groupings.
The PSA Dagger seems to hold up with most comparable pistols in terms of accuracy. Many of the Best Optics For Hellcats will also work with your Dagger to improve accuracy. However, I would still say the Glock 19 will out shoot this pistol.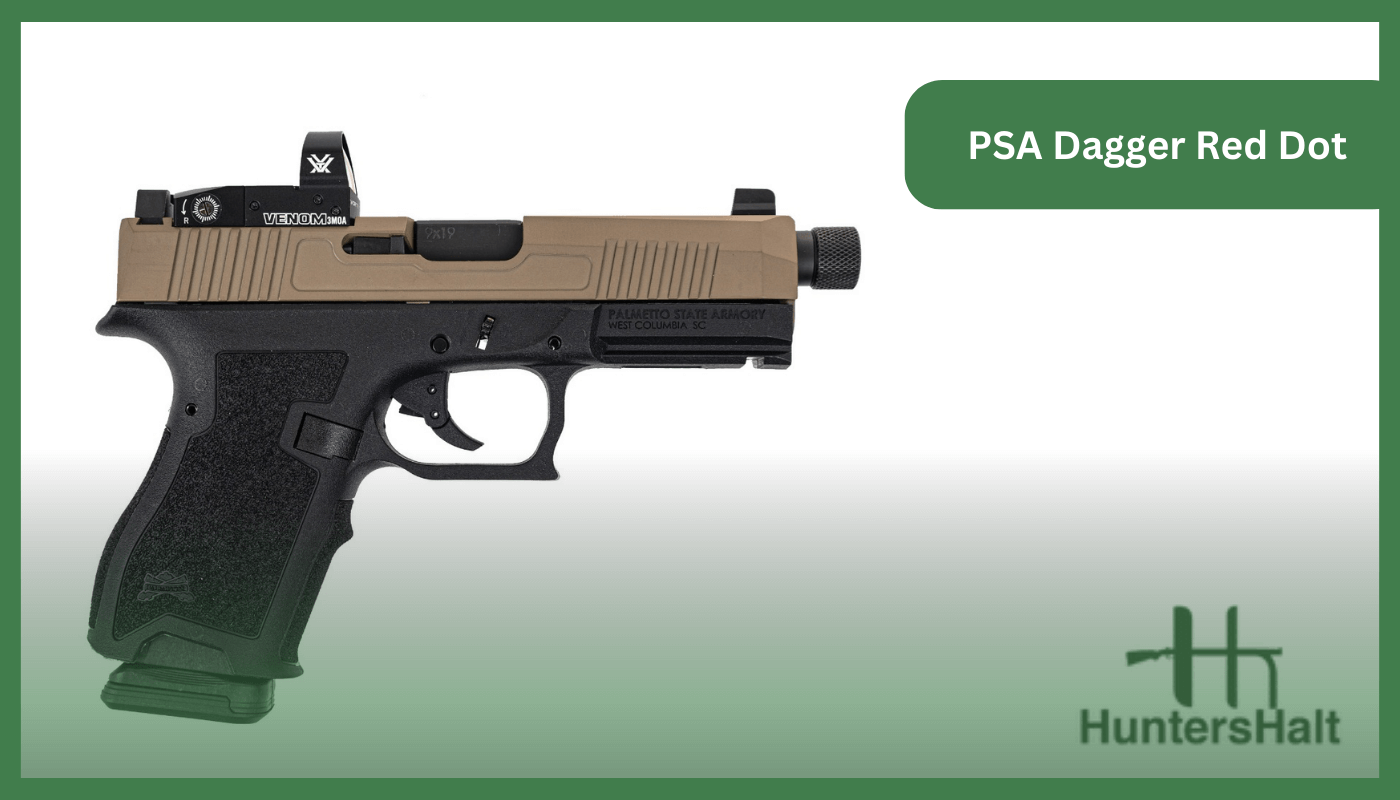 ---
3. Problems With PSA Dagger Frame Design
A pistol frame is the central component that acts as the structural foundation for all the other parts. The framing houses the trigger, grip, and the magazine well. They are most commonly made from different materials such as polymer, aluminum alloy, or steel.
The PSA Dagger's polymer frame changes size depending on the grip angle & size you choose. My grip fits my hand perfectly and I find it more comfortable than the Glock 19. However, many shooters are not a fan of the larger grip design. Shooters also complained of a similar frame issue with the Ruger LCP Max. Pick what suits your feel and needs best.
---
4. Issues With PSA Dagger Trigger
The trigger mechanism is what allows rounds to be fired. If you are not comfortable with your handguns trigger design it will be very difficult to fire shots quickly & accurately on target. One of the 5 Bond Arms Derringer problems is also issues with their trigger as well.
Many shooters were not a fan of the PSA Dagger hinged trigger. These people are probably better off with a standard blade trigger design.
---
5. PSA Dagger Issues With The Slide
The slide on a pistol is a piece that moves back and forth along the frame of the pistol when it is being fired. The slide's main purpose is to facilitate the loading, chambering, and ejection of cartridges. If any part of your slide or slide lock malfunction, you will not be able to fire or eject rounds properly.
Several shooters have reported issues with their slides that have resulted in their gun jamming. This was also a common VP9 Problem as well. If this happens to you, consider one of the following solutions.
Clean your handgun thoroughly
Take your pistol to a local gunsmith
Contact the manufacturer to get parts replaced
---
How To Upgrade Your PSA Dagger
The best way to upgrade your PSA Dagger is by equipping it with a red dot sight. This will improve your sight picture, target acquisition speed, and accuracy from close to medium range. Consider checking out this list of Ruger Red Dot Sights as they will also be great options for your Dagger.
---
What Are The Best Use Cases For The PSA Dagger?
The PSA Dagger 9 is a popular and dynamic pistol that can perform well in a variety of different use cases. Here is a list of the best applications of the PSA Dagger.
Concealed Carry
Personal/Home Defense
Recreational/Range Shooting
---
Is The PSA Dagger Still Popular?
Yes, the PSA Dagger is still a popular gun. Since it was created in 2020, the PSA Dagger has gained a great reputation for being an accurate, reliable, and comfortable carry pistol. Many shooters have chosen this over the standard Glock 19 model. Many shooters that only want a small concealed carry opt for smaller & cheaper guns like the SCCY CPX-1. But there are SCCY CPX-1 problems that shooters should be aware of as well!
---
Frequently Asked Questions
Is the PSA Dagger compatible with Glock Magazines?
Yes, the PSA Dagger is compatible with OEM Glock magazines.
How expensive is the PSA Dagger?
The PSA Dagger retails for about $300. This is a very reasonable price and is comparable to other similar pistols on the market today.
Where are PSA Dagger's made?
The Palmetto State Armory makes their firearms at their Columbia, South Carolina factory. The PSA Dagger is also made in their South Carolina facility.
---
The Bottom Line
By now you should have a complete understanding of the PSA Dagger and its most common issues. Although this is a great gun used by many, it still has its own fair share of issues. Use our article as a resource to diagnose your Dagger issues and get them fixed right away!