The M&P-15 Sport 2 is one of the most popular rifles on the market. This gun, created by Smith & Wesson, is a reliable gun used by thousands of gun enthusiasts. However, this weapon is not without its faults. In this post, we'll show you 5 of the most common Smith and Wesson M&P 15 Sport 2 problems that gun owners encounter.
New M&P 15 Sport II
Smith and Wesson M&P 15 Sport 2
Advice: Avoid The Hassle Of Repairs & Buy A New AR!
Check Latest Price
We earn a commission if you click this link and make a purchase at no additional cost to you. Thank you for supporting us - we really appreciate it!
---
5 Problems With M&P Sport 2 Rifles
For the most part, the M&P 15 Sport II is a reliable weapon that can be purchased for an affordable price. But like all weapons, there are common issues that gun owners deal with. Take these 5 problems into account before making a purchase.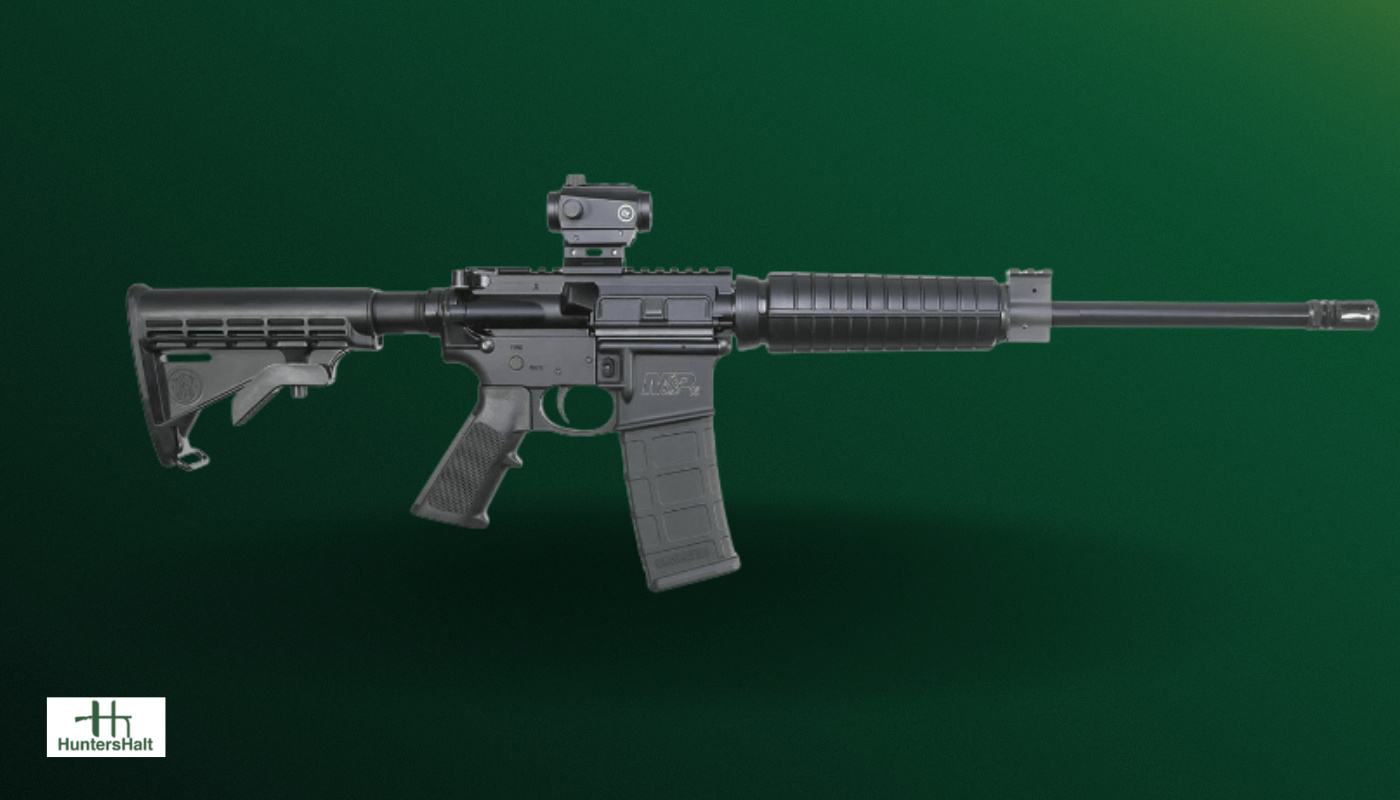 ---
1) Firing Pin Issue
On rare occasions, the firing pin on the M&P Sport 2 will not fire. This is due to a design flaw that causes the firing pin to get stuck in the forward position. This is also one of the most common Delton AR-15 Problems that I found in my testing of this similar firearm.
What's The Solution?
To fix your M&P 15 & get back to shooting you should send the weapon back to Smith & Wesson. They should repair your damaged or defective weapon within a few weeks. However, if you want to attempt a manual repair, try removing the bolt and firing pin.
Is the pin damaged? Is there even a firing pin at all (seems silly to ask but you'd be surprised)?
Clean off the bolt and pin before reassembling your weapon. If that doesn't work…back to plan A. Send it back to the manufacturer for proper repair.
---
2) Barrel Weight
A well-known problem with the M&P Sport 2 is that the front of the barrel is heavier than the rear, causing the rifle to tilt forward when shouldered. This can be a real pain for shooters, as it makes it difficult to keep the sights on target.
This issue is most common in younger shooters who do not have a strong grip and upper body strength. For most people, this will not be a major concern.
What's The Solution?
The truth is that there is no real solution to this issue.
Rifles are heavy. If you are a new shooter it may just take some time to get adjusted to the weight distribution. Of course, you have the option to purchase a lighter weapon with better weight distribution. But if you don't have the budget for a new weapon, just spend some time practicing and you'll quickly get used to it.
---
3) Issues With Barrel Twist
The M&P Sport II has a 1 in 9" barrel twist, which is the industry standard. However, some people prefer a 1 in 7" twist for greater accuracy. The M&P Sport II is still a reliable and accurate rifle, but it may not be the best choice for those who are looking for ultimate precision.
What's The Solution?
The rate of spin of the bullet as it travels down the barrel is affected by the twist rate of the barrel. The faster the bullet spins, the more accurate it will be. A bullet with a higher twist rate will rotate faster than one with a lower twist rate. Note that ammo weight also plays a contributing factor in the rotation, speed, and accuracy of the bullet.
If you are not happy with your Smith and Wesson's barrel twist, you'll need to buy a new weapon.
---
4) Over Gassed
The rifle is over gassed. There is no doubt that this is the most commonly reported M&P Sport II issue.
After firing a few consecutive rounds you will get a lot of gas sent back at your face. I don't know what they were thinking when they designed this gun, but it's definitely over-gassed. Smith & Wesson likely designed the sport knowing that it would be used heavily with low-quality ammunition. Every time I shoot more than 6-7 rounds, I end up with a mouthful of gas and a burning sensation in my eyes. I also found this to be one of the Ruger EC9s problems from my past testing!
What's The Solution?
If you don't have one already, you need to switch out your standard gas block with an adjustable gas block. This will give you the ability to modulate the pressure manually and prevent carbon buildup.
---
5) Bullet Tumbling
After shooting many rounds with the M&P Sport II, some people have reported issues with bullet tumbling. I have to say this is not something that has happened to me, and I have fired hundreds of rounds. Other shooters have reported similar issues with their handguns. In fact, this was one of the most common Walther PPQ problems that shooters reported.
What's The Solution?
Bullet tumbling is really caused by two main reasons:
Imperfections in the bullet
Imperfections in the muzzle
If you are one of the few people experiencing this issue I recommend you start by cleaning your weapon thoroughly. Check for any signs of damage within your muzzle. Also, examine the quality of your ammunition. Consider experimenting with different bullets if you cannot find any obvious issues with your gear.
---
Is the M&P Sport 2 reliable?
The M&P Sport 2 is a functional, reliable, and budget-friendly rifle. It is ergonomic and has all the features that an entry-level rifle should have.
I always recommend beginners to consider it for their first rifle. Although we just covered some issues, the M&P Sport 2 is reliable and is proven to work very well. I also ran into similar Springfield Hellcat reliability issues when I tested that concealed carry weapon.
---
Upgrade Your M&P Sport II
If you want to take the performance of your rifle to the next level…consider adding a scope. We spent over 24 hours testing 5 different scopes to make your shopping easy. Check out our article on the Best Scopes for M&P 15 Sport 2! Adding a scope can considerably increase your accuracy and consistency on the range.
---
Smith and Wesson M&P 15-22 Problems
The Smith and Wesson M&P 15 & M&P 15-22 are very similar rifles. In fact, the only major difference is the M&P-15 is chambered in 22LR and the M&P 15 is chambered in 223 Remington. Both of these have become very popular on the market today for new and experienced shooters.
But there are also issues with the M&P 15-22 rifle. Here are some of the most common issues that shooters exerpience.
| | |
| --- | --- |
| Loose Ejector | Results in inconsistent ejection of spent cartridges, potentially impacting the firearm's reliability and functioning. |
| Frequent Misfires | Failure of the firearm to fire when the trigger is pulled, causing an interruption in shooting and potential safety concerns. |
| Loose Buttstock | Rear portion of the firearm's stock is not securely attached, leading to discomfort, instability, and potential accuracy issues for the shooter. |
---
Comparing M&P 15 vs AR-15
There is no comparison between the M&P-15 vs AR-15. And that is for one very basic reason. The M&P-15 is a type of AR-15. You should also understand there are different m&p 15 model differences as well!
The Smith & Wesson M&P-15 is an AR-15-style semi-automatic rifle. It is a gas-operated, magazine-fed rifle with a rotating bolt. The M&P15 is chambered for the 5.56x45mm NATO/ .223.
---
FAQs – M&P 15 Issues
How reliable is the M&P 15?
The M&P 15 is a reliable gun that is great for beginners. It is simple to use and has a high rate of fire. This weapon is lightweight, rugged, and built to last.
Does the M&P 15 Sport 2 have a threaded barrel?
Yes, the M&P Sport II has a 16-inch threaded barrel.
Is the M&P 15 Sport 2 any good?
For the price, the M&P 15 Sport 2 is a quality rifle. It makes for a great entry-level weapon.
Does the MP 15 Sport 2 have a Mil Spec buffer tube?
Yes, the MP 15 Sport 2 has a Mil Spec buffer tube. This means that it is built to military specifications and is therefore more durable than other types of buffer tubes.
How accurate is a M&P 15 Sport 2?
The M&P 15 Sport 2 is a great choice for anyone looking for an accurate, mill spec AR-15. With the right ammunition, you can easily produce groupings within 1 inch.
Does M&P Sport 2 have forward assist?
Yes, the M&P Sport 2 has forward assist and dust cover features.
Can I shoot 5.56 in my M&P 15?
The M&P 15 is designed to be compatible with both 5.56 NATO and 223 Remington ammunition, so you can safely fire either type of round in your gun.
---
The Bottom Line
There is no doubt that the Smith & Wesson M&P 15 Sport 2 is a high-quality weapon. However, there are a few problems that gun owners encounter. Now you know what to look out for and how to fix each issue. If you run into a serious issue with your weapon that can't be easily fixed… send it back to the manufacturer. Let us know if you find any more issues & we'll update this list!