If you're a deer hunter or just a weekend shooter, there's a good chance you're using a Vortex Crossfire red dot sight. They're affordable, dependable, and easy to use. But just like any piece of equipment, they're not perfect. In this post, we'll discuss some of the most common Vortex Crossfire red dot problems and how to fix them.
7 Problems With The Vortex Crossfire Red Dot Sight
Here are 7 problems that gun owners have experienced with the Vortex Crossfire red dot.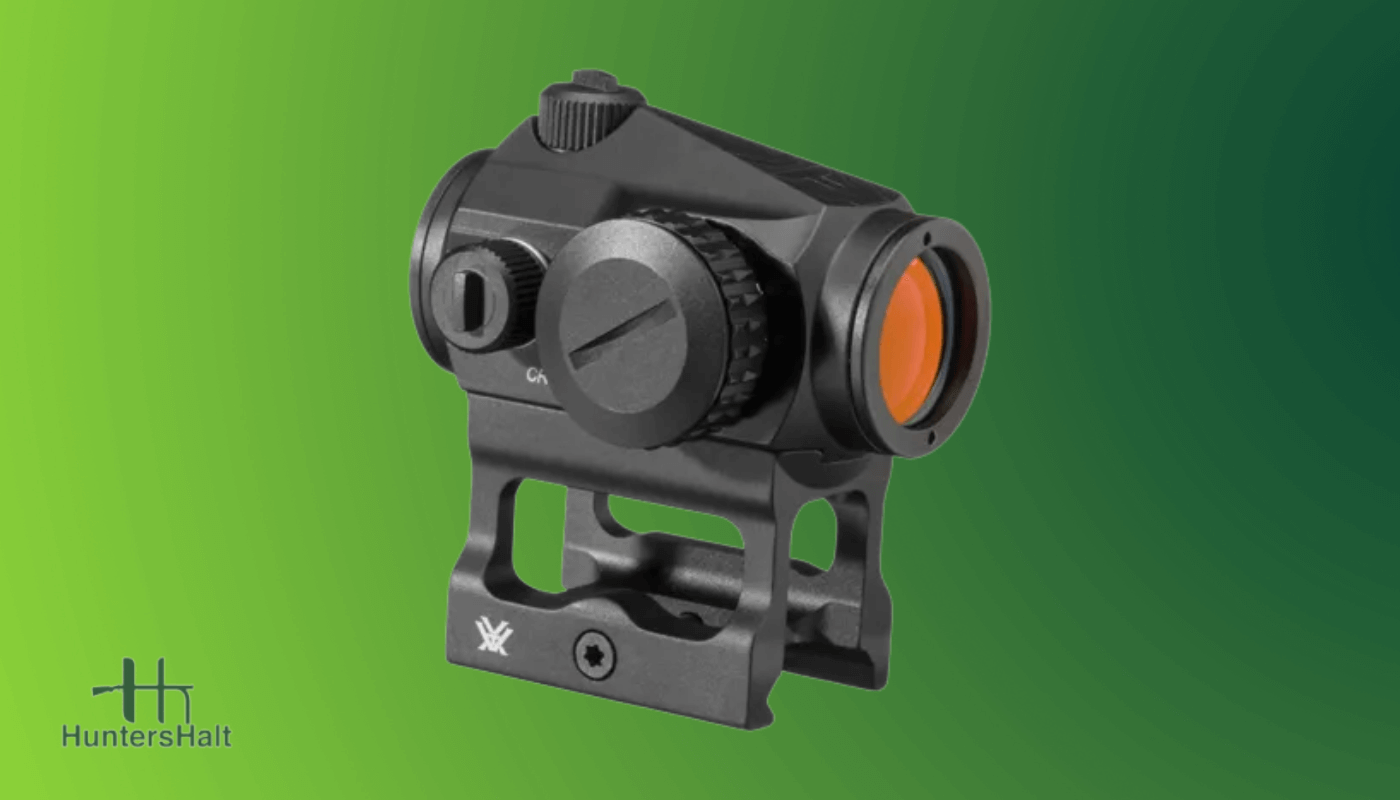 1) Optic Cracking
Some customers have reported issues with the lens on their red dot unit cracking. One user reported that the objective lens cracked from a light drop after unboxing. In fact, I have had similar durability problems with the Sig Romeo 5 red dot.
The truth is…I'm not buying that. From my experience, the Vortex Crossfire red dot is a durable sight. You would have to be very rough with this sight to experience any cracking at all. I'm not saying it's impossible…it is just rare.
2) Reticle Size
The Vortex Crossfire optic is equipped with a 2 MOA red dot. In other words, the red dot will appear 2″ in diameter on a target that is 100 yards away. Many people would consider this dot too small for a sight designed for close to medium-range shooting.
This won't be an issue for everyone. However, I personally prefer a 3 MOA or 6 MOA red dot for close-quarters shooting.
3) Issues With Windage & Elevation Adjustments
When it comes to scope problems, issues with adjustment knobs are very common. Some shooters have experienced issues adjusting the windage and elevation settings. These settings are there to calibrate your specific weapon, but they have issues from time to time.
Customers have had Crossfire sights that cannot be adjusted due to broken elevation and windage settings. Customer support may recommend that you insert a shim to zero your weapon. However, I do not think that is a realistic option for a sight that costs ~$200. Send you optic back to enforce the warranty.
4) Battery Life
Vortex Optics estimates your Crossfire red dot will have 50,000-hour battery life. However, you need to know that this depends on your specific brightness settings.
Using high brightness settings will kill your battery life much faster.
The batteries are usually reliable. However, several customers have complained that the battery life is nowhere near what it should be…even on the lowest setting. I have had a similar battery problem with the Holosun 510c as well. If this happens to you, send it back to the manufacturer to get replaced.
5) Poor Reticle Image
There is a common issue with red dot quality on the Vortex Crossfire. Some gun owners have experienced a blurry red dot or a dot that is oval-shaped.
If this happens to you, there are a few things to do. First, ensure your battery cap is seated properly. And if that doesn't do it, adjust your dot intensity depending on your specific lighting conditions.
6) Poor Illumination Knob
One of the biggest issues I encountered is with the illumination knob. Specifically, the knob becomes tough to rotate or gets stuck in place. To make things worse, the red dot illumination goes away if not fully clicked on the next setting.
I have not come across a simple solution to this problem. If it happens to you, contact customer support and get it replaced.
7) No Easy On/Off Button
The Vortex Crossfire red dot does not have a simple ON or OFF button. You need to rotate the red dot brightness knob until the optic kicks on.
To me, this is not the best design as it takes time to get the dot dialed in. There are times when I would like to click my dot sight on and start firing right away.
What To Expect From This Scope
Although I have just listed 7 common problems with the Vortex Crossfire red dot, it is still an excellent entry-level optic. This is one of the sights that Vortex manufactures in China. If you have a tight budget, this is a realistic option.
It may not have any fancy features, but the Crossfire red dot is accurate, durable, and holds zero. I personally use a 36-yard zero to sight in my Crossfire.
Who Is This Scope For
The Vortex Crossfire red dot is a quality sight used by many different shooters around the country. The people who use this scope include:
Entry-level shooters
Close to medium-range shooters
Recreational shooters
Gun owners on a budget
If you are interested in checking out a red dot sight of your own, check out our post on the Best Red Dot Sights for AR-15!
FAQs- Vortex Crossfire
Does Vortex make good red dots?
Vortex makes high-quality red dot sights that are a great option for hunters and weekend shooters alike. They are incredibly durable, easy to use, and feature multiple different red dot options. That said, we have found problems with the Vortex Viper, Vortex Venom & Vortex Strikfire red dots sights.
Does Vortex offer a lifetime warranty?
Vortex does offer a fully transferable lifetime warranty on its products. This is great news for customers, as it shows that the company is confident in the quality of its products. If you have any issues with a Vortex product, simply contact the company and they will help you resolve the issue. I have personally had a great experience with their customer service department.
Does Vortex Crossfire have auto shut off?
Vortex Crossfire does not have an auto shut-off feature. This means that if the device is left on, it will continue to run until the battery is drained.
What is the battery life on a Vortex Crossfire?
Crossfire batteries have a lifespan of 50,000 hours on the lower settings. This makes them incredibly durable and suitable for long-term use. However, it is important to note that battery life may decrease over time if you use your red dot sight on medium brightness or even the brightest setting.
Is the Vortex Crossfire red dot waterproof?
The Vortex Crossfire red dot sight is both fog proof and waterproof. It is nitrogen gas purged with O-ring seals to prevent moisture and debris from getting inside the sight. This makes it an ideal choice for use in all weather conditions.
Where is the Vortex Crossfire red dot made?
Like most red dot sights & Vortex products, the Crossfire red dot is made in China. For many people, this is not a real issue. After all, half the products I used on a daily basis are from China. For some shoppers, this is a deal breaker.
Is the Crossfire II a good scope?
The Vortex Crossfire II is an excellent scope. It is durable, reliable, parallax free, and holds zero well. It is even compatible with night vision optics. I would highly recommend this scope to anyone looking for a quality optic for a reasonable price.
Is Vortex Diamondback better than Crossfire II?
There are some key differences between the Vortex Diamondback and the Crossfire II that might make one or the other a better fit for your needs. For instance, the Diamondback has better optical clarity and is therefore a better choice if you're looking for a hunting scope. On the other hand, the Crossfire II offers better eye relief, making it a better choice if you plan to use your scope for sporting events or tactical situations.
What size scope rings do I need for a Vortex Crossfire II?
The Vortex Crossfire II is a great scope for both beginner and experienced shooters alike. It is important to choose the right size scope rings for your Crossfire II, as this will affect how accurate your shots are. The recommended size scope rings for the Crossfire II are 1-inch rings. This will ensure that your scope is secure and will not move around while you are shooting.
The Bottom Line
All in all, Vortex products are durable, accurate, and reliable. However, the Vortex Crossfire red dot has some problems that gun owners should look out for before purchasing. Many of these issues are not common, but we want our readers to be prepared for anything. Considering these seven points before hitting the buy button on your Vortex Crossfire red dot sight.