As someone who owns dozens of different sights & scopes, the Vortex Strikefire 2 red dot sight is one of my favorites. For a very reasonable price tag, you get a reliable optic that is built to last. However, that does not mean it is perfect. Like all gun sights, there are issues. Some are big…and some are small. After owning this sight for over 1 year, here are some of the Vortex Strikefire 2 problems I encountered.
The 8 Biggest Vortex Strikefire 2 Problems
Here are 8 Vortex Strikefire 2 problems to be aware of if you're considering this optic. Many of these issues are rare, but you should still know what you're getting into before spending your hard-earned money.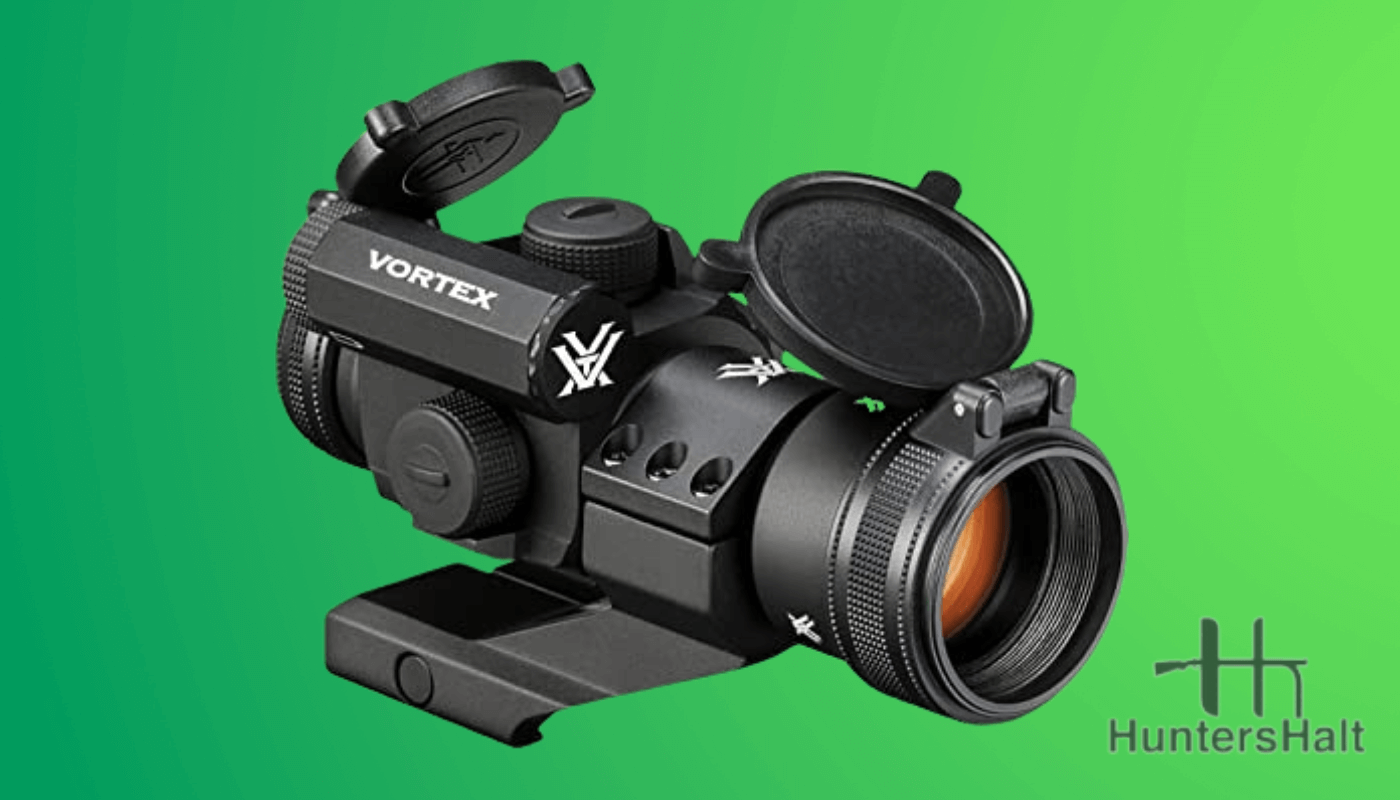 1) Mount Could Be More Simple
The cantilever ring mount could be simpler. It's not that it's difficult to use, but it could be more user-friendly. It would be nice if the ring mount had a quick release lever that would allow you to quickly detach and reattach the sight. I also had some issues aligning the mount with all three receivers. I also had mount issues with the Sig Romeo 5 when I tested that red dot optic.
2) Sight Size
The size of an optic is always a consideration. Some optics are too large and bulky. They add extra weight and even obstruct the sight picture. Sight size was also one of the Burris Eliminator 3 problems that I've found.
Vortex Strikefire 2 Dimensions: 5.59 x 2.36 x 2.36 inches (L x W x H)
For me, this is pretty standard. However, my brother-in-law complained enough about the size of this red dot sight that I had to add it to the list. This is not an eye-popping concern. You can easily look up optics dimensions online and save yourself the hassle.
3) Adjustments Are Lackluster
Although this is not one of the Trijicon SRO issues, the Strikefire II red dot sight provides lots of adjustabilities. You can change the intensity of the reticle & even the color of the dot (green dot or red dot).
However, all the adjustability is for nothing if the equipment doesn't work. I haven't experienced this personally, but there have been several reported issues with the brightness adjustment settings. The sight is all but useless if you cannot see the reticle in low-light situations. I found similar adjustability issues during my center point scopes review as well.
4) Battery Life
The Vortex specification sheet for the Strikefire II red dot states that the CR2 battery should last for 80,000 hours on setting 6. However, I personally do not keep my red dot sight on setting 6 year round! I have experienced at least a 10-20% reduction in battery life. This seems to be pretty common amongst the popular red dot sights on the market. I also found similar issues with the Vortex Viper battery life.
Some people have even experienced batteries so bad that they died in just weeks. However, Vortex customer support is top-notch and will replace them right away. I also found similar Sightmark Wraith battery life issues during my previous reviews.
5) Reticle Is Not An Actual Dot
After setting up their red dot sight, some shooters have found the Strikefire II red dot is not actually a dot. People have complained the dot is misshapen, which greatly impacts accuracy. I often chalk this up to poor manufacturing practices. Be sure to check where your Vortex scope is made before buying.
I have to say that this one is an easy fix. Simply turn up the dot intensity if you run into these issues. If you take aim in high light conditions, the dot will often appear misshapen and get drowned out. Adjusting the intensity can fix the issue.
6) No Auto Turn-On Feature
Several of the Best Red Dot Sights have an automatic turn-on feature. We call this a "shake awake" optic. Movement of the sight kicks the battery on and the red dot appears.
The Vortex Strikefire 2 does NOT have this feature. Several high-quality optics have this feature. But for the price of the Strikefire II red dot… it is hard to complain.
7) Red Dot Flickers
In some very uncommon circumstances, shooters have experienced issues with the reticle on their Vortex Strikefire. Upon unpacking & mounting the sight, the red dot appears to flicker repeatedly. To fix this, try adjusting the brightness settings on the side of the optic. If that doesn't work, utilize the warranty and send it back to the manufacturer. One time, I bought a fake sig sauer romeo 5 which had similar issues. Always make sure you're buying from an authorized seller!
8) Mount Slides On The Rail
After shooting hundreds of rounds with my Vortex Strikefire 2 over the last 12 months, I have noticed it has started to move. The powerful recoil of my weapon had loosed the scope mount and threw my sight out of alignment.
To fix this, I recommend adding a small amount of Loctite to the scope mount. This simple fix will ensure your red dot sight does not move around on the rail.
Where To Buy
If you are in the market for a new red or green dot sight. Our team has you covered. We have reviewed dozens of sights to make your life easy. If you are into assault rifles, check out the Best Red Dot Sights for AR-15. And if you're more into handguns, check out our article on the Best Pistol Red Dot Sights for the Money!
Vortex Strikefire II Specs
Length: 5.6 inches
Width: 2.36 inches
Height: 2.36 inches
Weight: 7.2 oz
Mount Type: Lower 1/3 Co-Witness Cantilever
Magnification: NA (1x)
Dot Size: 4 MOA
Eye Relief: Unlimited
Max Elevation & Windage Adjustment: 100 MOA
FAQs – Vortex Optics
Is the vortex Strikefire 2 any good?
Generally speaking, I think the Vortex Strikefire 2 is a quality optic that is built to last. It is an affordable red dot sight that you can count on. The ten variable illumination settings give a shooter lots of flexibility on the shooting range and in tactical situations. Although it is not perfect, this is a scope that I often recommend to friends and fellow readers.
Where is the Vortex Strikefire red dot made?
The Vortex Strikefire, and most other Vortex optics, are commonly made in China. However, this is very common across the industry. Although this is not ideal, Vortex is known to maintain a high-quality standard and has strict adherence to their manufacturing specifications.
Does vortex make a green dot?
The Vortex Strikefire 2 model comes in both red and green dot options that are installed with a cantilever ring mount. Choosing between red and green dots is an important decision when choosing your optic. In most cases, it comes down to personal preference. Green dots have been proven to be more visible in low light conditions or when shooting with a dark background. The lowest two settings are even night vision compatible.
Does the vortex Strikefire 2 have Shake Awake?
There is no "shake awake" feature on the Strikefire II red dot. Although there is a 12-hour auto shutoff feature, there is no power-on setting. If you are looking for an optic with "shake awake", check out Holosun optics.
How much does a vortex Strikefire 2 weigh?
The Strikefire 2 is a red dot sight that is used on a variety of different firearms. It is made from aluminum, and as such, it weighs 1.2 pounds. When choosing materials, there is always a tradeoff between weight and durability. Coated aluminum provides a happy medium of a lightweight optic that is also durable. This makes it one of the lighter options on the market when it comes to red dot sights.
What is the battery life on a vortex Strikefire 2?
The Strikefire II red dot & green dot sights have very strong battery life. If set to the lowest setting, the battery life should be up to 80,000 hours. There is even a shut-off feature after 12 hours to provide longer battery life. However, you should be aware that storing your weapon in the cold will shorten battery life. So store your weapon and optics with care.
What battery does a vortex red dot take?
The Vortex Strikefire runs well with a CR2 battery. Vortex specifically recommends the CR-2032 battery holder. This works well for almost all of their illuminated scopes.
Does Vortex offer a lifetime warranty?
Vortex offers a worldwide lifetime VIP warranty on all of its products [1]. This means that no matter where you are in the world if you have a problem with your Vortex product, they will do everything they can to make it right. However, if you don't buy from an authorized distributor or you buy a product that is illegally imported, then the warranty is NOT valid. In my experience, customer support is very responsive and reliable.
Are Vortex Optics durable?
In my experience, Vortex Optics are extremely durable. I've owned a number of their products over the years, and they have always proven to be rugged and reliable. I've run into a few small Vortex Strikfire 2 & Crossfire problems, but durability is not one of them. So, if you're looking for a durable optic that you can count on for years to come, Vortex Optics is definitely worth considering.
The Bottom Line
There is no debate that the Vortex Strikefire 2 is a fantastic optic for beginners and experienced shooters alike. Vortex is known to make great LPVO and Red Dot Optics. For the price tag, you would be hard-pressed to find a red dot sight as reliable and adjustable as the Vortex Strikefire 2. Like with all weapon accessories, nothing is perfect. Let us know if you come across any additional problems to add to our list!