It is obvious to me why so many people choose to equip their pistols with a Vortex Viper red dot sight. It is a fantastic micro red dot sight, perfect for fast target acquisition from close range. However, like all optics, there are some common Vortex Viper red dot problems to be aware of.
After combining my personal experience with feedback from my readers emails, it's apparent that the Viper has issues with elevation adjustment, small FOV, reticle size, and more!
In this post, we'll break down those issues in more detail so you can diagnose your own problems. I've found most of these problems to be quite rare. Regular maintenance & care can also go a long way in preventing most of these problems from occurring time & time again.
---
Biggest Vortex Viper Problems
Here are some of the main problems that customers and myself experienced with the Vortex Viper red dot sight.
| | |
| --- | --- |
| Problem | Description |
| Windage and Elevation Adjustment | Broken elevation (vertical) adjustment |
| Smaller Field of View Than Venom | Small FOV issue for some shooters |
| No Reticle Adjustability | Large MOA reticle not for everyone |
| Dot Color | Reticle only comes in red |
| Size | Viper is smaller than many would like |
| Battery Life Issues | Battery dies too fast on high settnigs |
| Turns Off Between Shots | Sight occasionally powers off after firing rounds |
---
1) Windage and Elevation Adjustment
Adjusting elevation and windage settings is necessary to zero a red dot sight. After buying a new red dot, one of the very first things you need to do is sight in the optic. The Viper features adjustable elevation and windage dials that make it easy.
Many people have reported issues with windage and elevation adjustment. Specifically, the elevation settings would not work. The red dot could not be adjusted vertically so the reticle was appearing to be off-center. The horizontal windage settings worked fine, but several people experienced problems with vertical adjustments. I also h ad similar issues with the HEX Wasp, so this issue is not unique!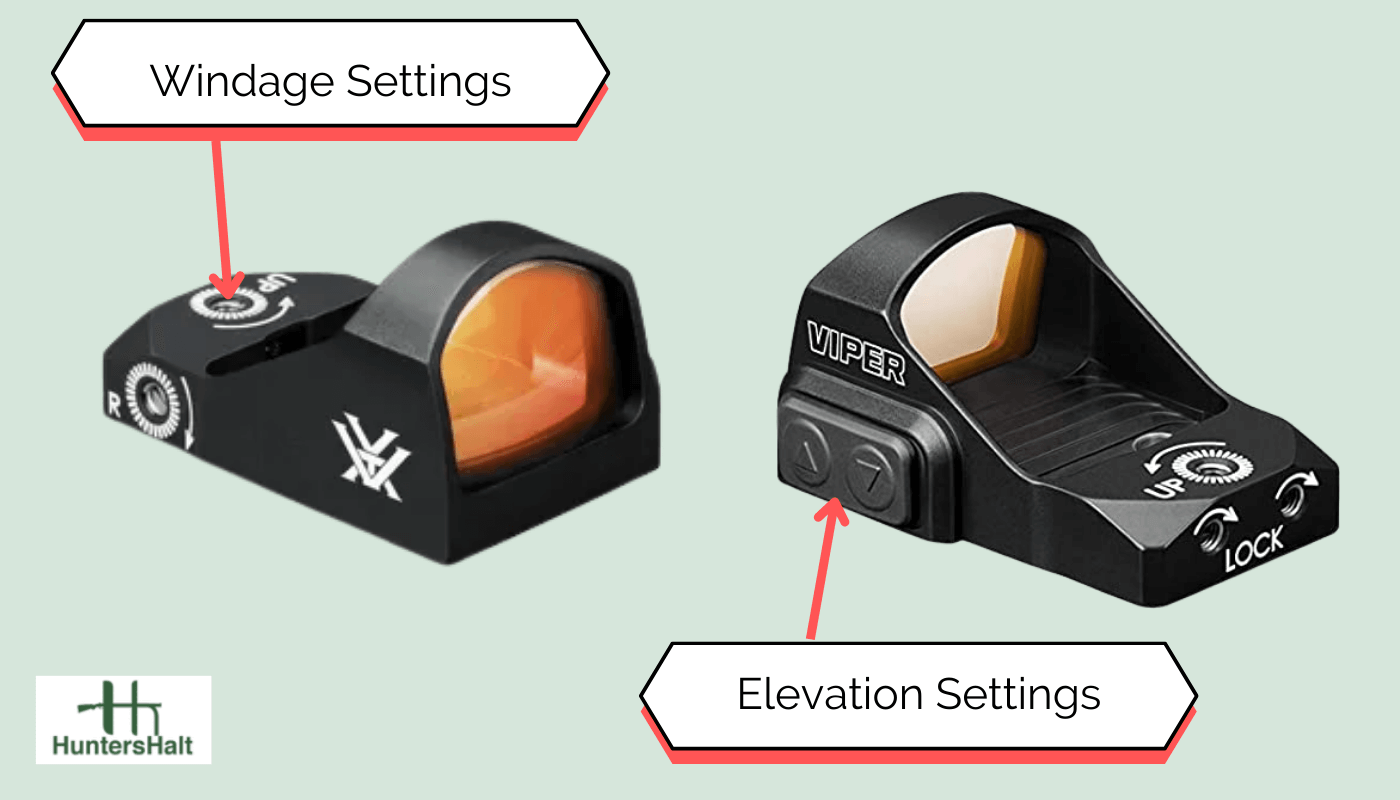 ---
2) Smaller Field of View Than Venom
Many people love the small size of the Vortex Viper. However, this creates a smaller optical lens and a smaller field of view. Although the Vortex Venom has problems, it has a larger display and field of view. Field of view is one of the biggest differences I noticed in my compariso of the holosun 507c vs vortex venom red dots. This gives a shooter a better view of the surrounding environment.
---
3) No Reticle Adjustability
Although I didn't find the same Trijicon sro durability issues, the Vortex Viper comes with a 6 MOA red dot reticle. Generally speaking, this is a great dot size for close-quarters handguns. The larger reticle allows for fast target acquisition. Which is exactly what many people want from a handgun optic.
However, many people would like some adjustability. For example, the Holosun 507k provides 3 different reticle options that shooters can choose from. Many of the Best Red Dot Sights feature this level of adjustability. In a perfect world, the Viper red dot would also have additional reticle options.
---
4) Dot Color
Years ago, almost all dot sights used a red-colored reticle. However, many shooters now choose to go with green dot sights. In daylight conditions, green dots are more visible to the human eye.
Many shooters like to choose between green and red dots depending on their shooting environment. The Vortex Viper does not give shooters the option to choose.
---
5) Size
The Vortex Viper is small. For many people, this is a good thing. I personally enjoy having a compact & lightweight red dot mounted to my concealed carry handgun. However, the size limits its use.
It would be awkward to mount this site on a large weapon like an AR-15. The smaller optic will also likely obstruct a target more from medium distances. I ran into a similar problem with Holosun sights. I was not surprised to find out the holosun parent company makes their optics in China!
---
6) Battery Life Issues
Vortex claims that the Viper can have a battery life of up to 30,000 hours on low settings. However, the reality is that nobody uses these low settings. To get a daylight bright red dot you need to use the medium to high settings. I had similar battery issues with CenterPoint scopes. Can you guess who makes center point scopes? That's right, they're made in China too!
On top of that, there have been several people who had faulty batteries. The sight died within hours of powering it on at the range. Even after replacing the battery, there were still issues. If this happens, contact Vortex customer support as they will likely need to replace the optic. I have also seen this issue with other optics like the Vortex Crossfire!
---
7) Turns Off Between Shots
It is important to know how to tell if a scope is broken. It does not take a lot of experience to know that its an issue if your sight won't turn on. On rare occasions, people have complained about their red dot turning off between shots. The only possible explanation I can think of is the recoil is causing a malfunction. However, for obvious reasons, it is not acceptable that an optic can just shut off after firing a round.
This issue is not unique to Vortex. Shooters have also had problems with their holosun 510c not turning on at all!
---
Vortex Viper vs Venom Red Dot Sight
The Venom and Viper red dot sights are two of the most popular optics that Vortex offers. Here is a more in-depth breakdown.
---
Alternatives To Vortex Optics
Although Vortex makes great optics at its international plants, many shooters will want to explore other options. Consider these alternative brands.
Many shooters will try to declare one specific optic company as the "best". However, it really depends on your specific budget and personal preferences. Do some research to see which fits you best. This theory holds true for weapons as well, many people love Walther, but I've had many Walther PPQ problems over the years.
---
FAQs – Vortex Viper Red Dot Sight
Is Vortex Viper red dot any good?
The Vortex Viper red dot is a great budget-friendly optic for handguns. It is a lightweight and compact red dot sight that is perfect for a concealed carry weapon. It also features a 6 MOA red dot sight, perfect for fast target acquisition from close range.
Does the Viper red dot turn off automatically?
There are no Vortex optics with a shake awake feature. However, the Vortex Viper does have an auto-shutoff mode that is usually set for around 10 hours. If you're anything like me, then it is all too easy to leave put your handgun away for the night without turning off your optic. The auto-shutoff mode is great for saving battery life.
What's better Vortex Viper or Venom?
The Vortex Viper & Venom red dot sights are two of their most popular optics. In fact, the Vortex Venom has topped the list on our review of the Best Handgun Red Dot Sights. However, they are used for different reasons. The Viper is a 3 MOA & the Venom is a 6 MOA red dot. The Venom is the smaller and lighter optic. Both are great mini red dot sights, so it depends on your personal preferences.
Where are Vortex Viper red dots made?
Like many of the Vortex optics, the Viper red dot is made in the Philippines. For me, this is not a huge deal. After all, most of the optics today are manufactured in China. I suspect they use the Philippines for cheap labor. However, I have never seen significant quality issues, so it's hard for me to criticize.
Is Vortex better than Leupold?
Both Vortex & Leupold make fantastic optics. Leupold probably has an edge from a quality perspective. They make premium top-of-the-line scopes. However, Vortex makes great sights that are also more budget-friendly. That being said, I have noticed some small issues with the Leupold CDS Dial & the Vortex Venom red dot. Pick the optic that best fits your budget.
What's better 3 MOA or 6 MOA?
When choosing between 3 MOA vs 6 MOA, you have to consider your use case. If you want a reticle for close-range shooting, go with the larger 6 MOA dot. However, if you want more precise medium-range shooting 3 MOA dot.
Who owns Vortex?
Vortex is a company privately owned by the Hamilton Family. They are based out of Barneveld, Wisconsin & make some of the best optics on the market.
---
The Bottom Line
The purpose of this article was not to throw stones at Vortex. They are a top-notch optic company with some great products. Many of them I use every day! However, no sight is perfect. In fact, I found plenty of issues with the Sig Romeo 5, which is a popular competitor. Now you should be aware of some of the more common issues people have with the popular Vortex Viper red dot. Send us an email if you find any more issues to feature in our blog!