Most shooters are familiar with Athlon Optics products. They make various rifle scopes and spotting scopes that have become very popular for their fair pricing and reliable quality. However, many shooters & hunters want to know where their products are manufactured. Some will only buy from a US-based optics manufacturer! In this post, we'll cover exactly where are Athlon scopes made.
---
Where Are Athlon Scopes Made?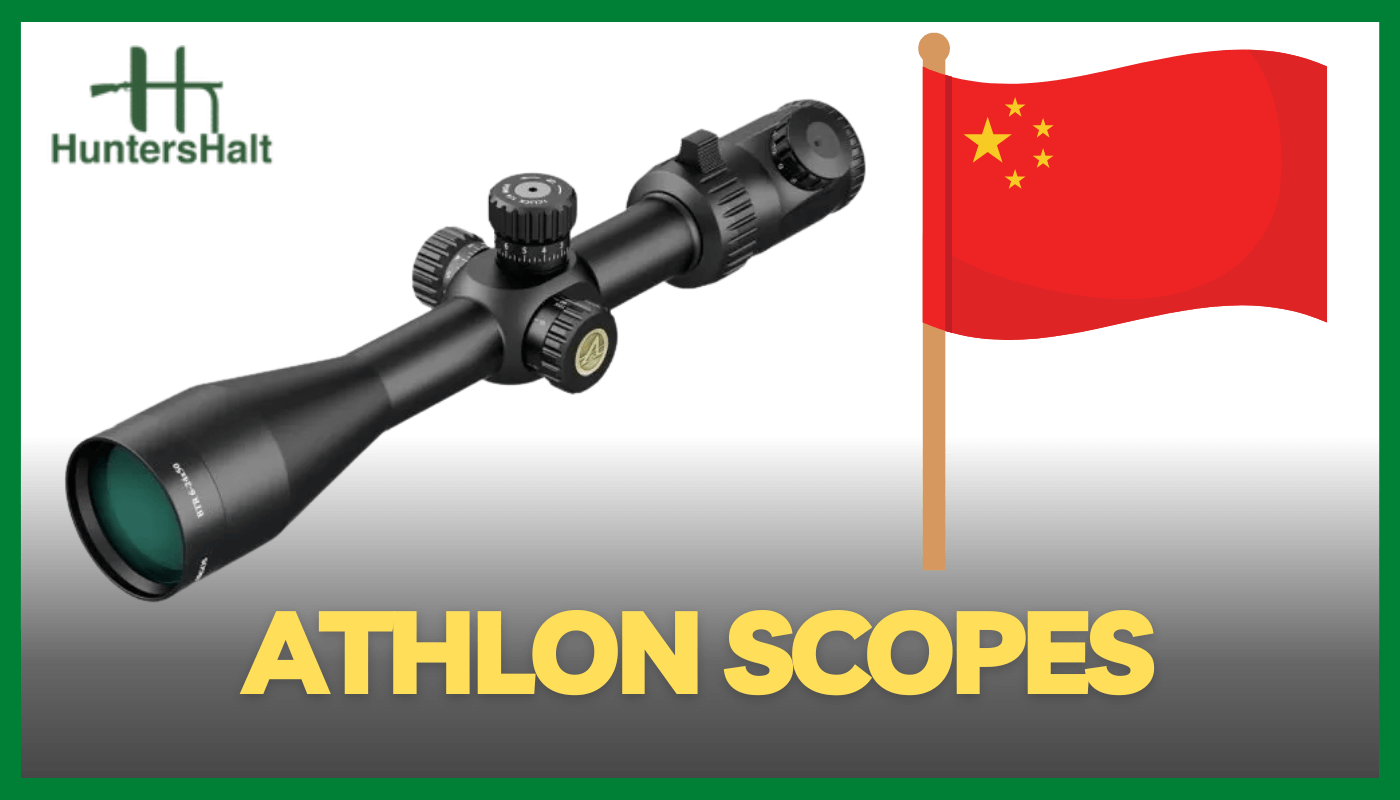 For the most part, Athlon manufactures its rifle scopes in China. Utilizing Chinese manufacturing allows them to significantly lower production costs while still meeting consumer demand.
This is a very popular business strategy in the rifle scope market today. In fact, many of the best scopes for 350 Legend are made in China today!
Athlon scopes also offer a more premium scope line called the Cronus BTR. These premium Athlon scopes are made in Japan manufacturing facilities. They come in different types of reticles and shooters love them. In Japan, they have a higher emphasis on production quality & attention to detail.
This allows them to produce the Athlon Cronus BTR scope exactly how it was designed! They are also more expensive to purchase than their normal product line.
There are many shooters who are not interested in Chinese-made products, like Vortex, & will choose to avoid Athlon optics for this very reason. However, that is an individual choice that you will need to make!
---
Is There An Athlon Scope Warranty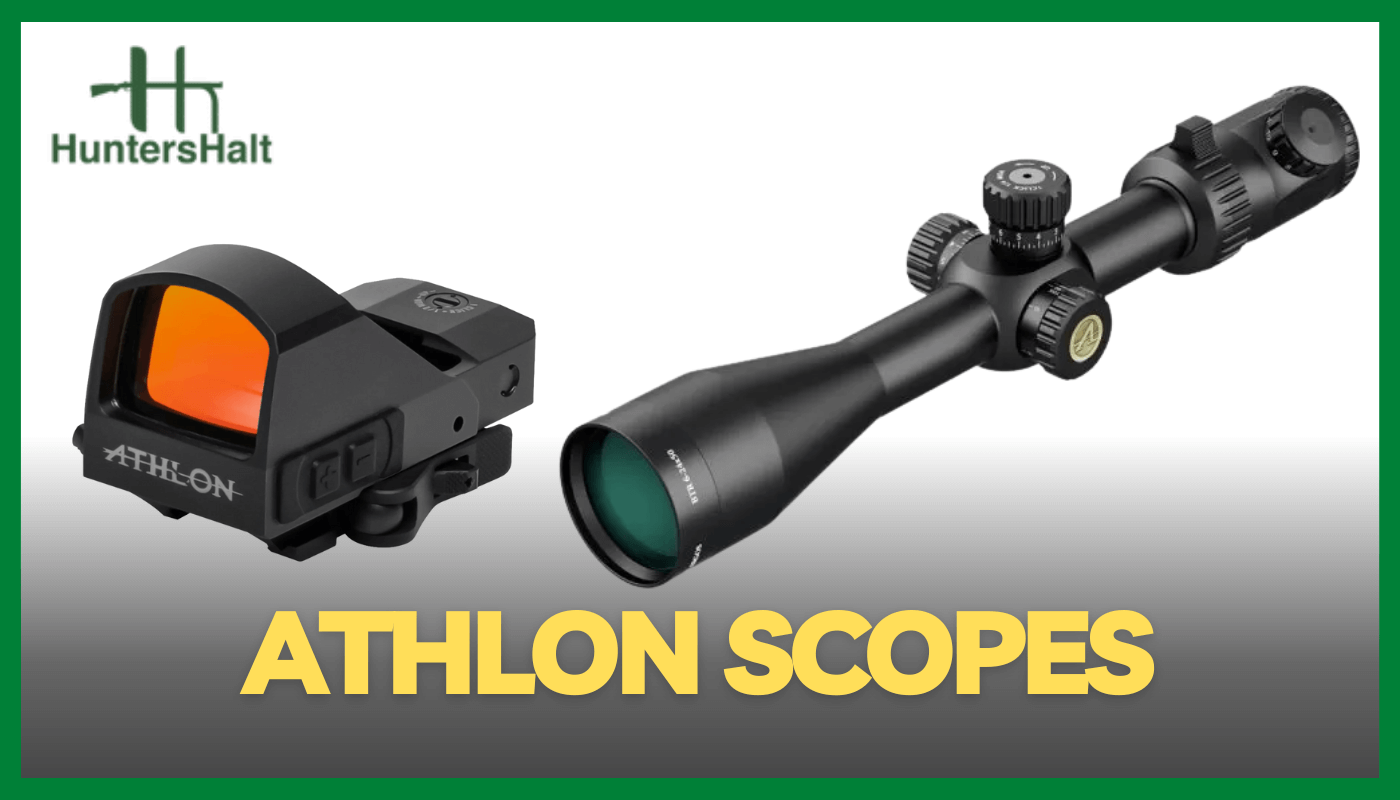 Unlike many of its competitors, Athlon Optics offers a generous lifetime warranty on its optics. You can read more about the details of their Athlon Scope Warranty here.
To summarize, they will fix or replace any of your broken optics. The only catch is that it must be from "normal use". In my experience, this should cover most of the common mistakes shooters run into. However, silly mistakes like running your scope over with a car will likely not be covered! Generally speaking, their customer service is fair & quick to respond to open queries.
---
What Products Does Athlon Offer?
Athlon is primarily known as a rifle scope company. They produce a large product line of rifle scopes that are suited for beginners and advanced shooters. Here is a brief list of some of the most popular Athlon products.
Binoculars (Cronus G2, Midas G2, Argus G2)
Rifle Scopes (CRONUS BTR GEN2 UHD, ARES ETR UHD, TALOS BTR GEN2)
Red Dot Sights (TALOS EDC, MIDAS TSP1, Magnifiers)
Spotting Scopes (Cronus G2 UHD, ARES G2 UHD)
Rangefinders (MIDAS 1 MILE G2, TALOS G2)
Accessories (Harnesses, tripod, scope accessories)
As you can see, Athlon has a large product line. Many shooters are surprised to find out that they also make premium red dot sights. In fact, they make some of the best Hellcat red dots that I've tested!
---
Should You Buy Overseas Products
There is no doubt that products manufactured overseas in the following locations have a reputation for quality issues.
However, many shooters would be shocked to know that the majority of scopes on the market today are made in these 3 locations. Manufacturers are able to improve their profitability by using cheap labor, even if it results in lower-quality products. In fact, most of the Hog Hunting Optics I've tested are made overseas.
For this reason, many hunters have decided that they will only use American-made products like Trijicon or Burris. In fact, the best Burris scopes made in USA is the XTR iii. If you have the budget, it is smart to invest in a quality optic to avoid dealing with miscellaneous issues that often arise.
Shooters also ask where are nightforce shv scopes made? These scopes are mostly made in Japan, but tested & assembled in the USA.
---
Popular Use Cases For Athlon Optics
Here are some of the most popular Athlon optic use cases.
Hunting – Most shooters who purchase Athlon optics are hunters. They provide reliable scopes for affordable prices.
Long-Range Shooting – Athlon makes high-quality scopes that are great for long-distance shooting. Their LPVO budget scopes are great for a variety of distances.
Self-Defense – The red dot sights and prism scopes are great for self-defense and tactical shooting situations.
SIG Sauer is a major competitor of Athlon. Shooters often ask where are sig sauer whiskey scopes made & are shocked to hear they're made internationally!
---
Frequently Asked Questions
Is Athlon a good scope?
Athlon Optics makes a fantastic rifle scope for beginners & advanced shooters alike. Specifically, their Athlon Argos BTR rifle scope has a first focal plane reticle and is great for extreme long-range shooting, hunting, and target shooting.
Which scopes are made in China?
A large majority of the popular rifle scopes on the market today are made in China. Even high-quality optics like Holosun are largely made in China to lower production costs. Vortex, the most popular brand in the optics industry, makes most of its product lines in China.
What scope brands are made in Japan?
Sightron produces the majority of its rifle scopes in Japan. Vortex Optics also makes its Razor rifle scopes in Japan. However, there are many optics that utilize Japanese-manufactured glass for their objective lens.
Where is Athlon Talos made?
Athlon optics are largely manufactured in China and Japan. The Athlon Cronus BTR rifle scope is made at their Japanese LOW manufacturing facility. They are known for high-quality spotting scopes and rifle scopes.
---
Final Thoughts
By now you should have a clear understanding of where Athlon optics are made. Many of our readers are strictly looking for a US-based optics manufacturer. However, in previous posts, we saw how premium Holosun optics are made in China & still perform great! If you do not have an extreme budget to shop with, purchasing an Athlon scope is a great decision!