Generally speaking, Crimson Trace scopes are amongst the most popular budget-friendly optics on the market. The Brushline Crimson Trace Scope line is very popular with hunters & performs great in many different conditions. However, many shooters want to know where their scopes are made before making a purchase. In this post, we will break down where Crimson Trace rifle scopes are made & explain their manufacturing process!
---
 Where Are Crimson Trace Scopes Made?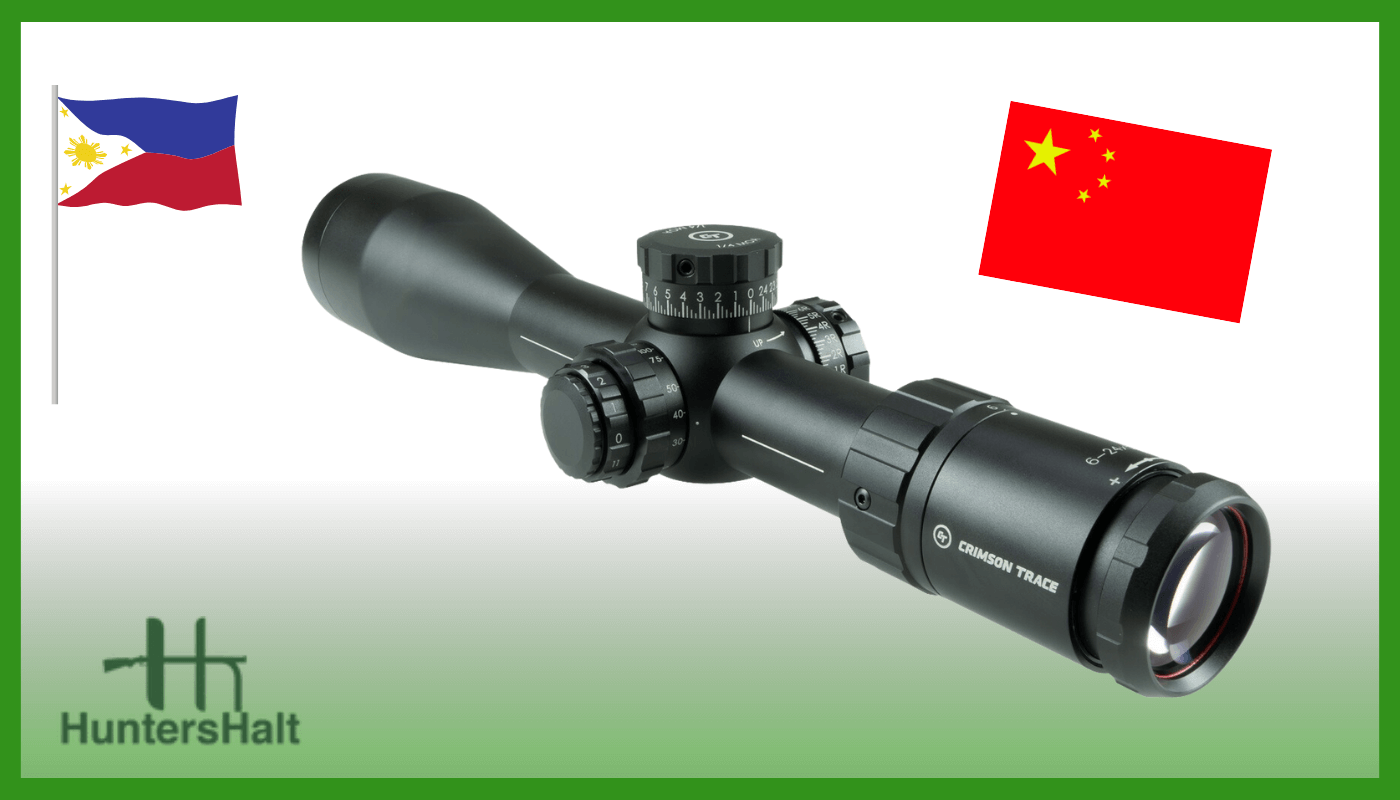 Although Crimson Trace is an American company, they do not make their scopes in the United States. In fact, it is very uncommon for optic manufacturers to make their own optics in the United States. Most Crimson Trace rifle scopes are made in the Philippines or China.
Philippines Manufacturing
It is no secret that the Philippines has carved out a niche in the world of manufacturing firearm optics. The combination of skill & relatively affordable production costs has contributed to the Philippines steadily gaining a positive reputation for producing quality rifle scopes. These scopes are known for their durability, performance, and precision. Many of the Best .338 Winchester Mag Rifle Scopes are made in the Philippines.
China Manufacturing
Many American shoppers may think of low quality when they picture Chinese-made products. However, the reality is these products are low-cost alternatives to more expensive, high-quality options. Many brands that want to sell scopes at competitive prices are forced to manufacture in China and other Asian countries. Also, the Holosun 507c & 507k are made in China & they are my favorite red dot sights!
---
Where Is Crimson Trace Headquarters?
Crimson Trace is based out of Wilsonville, Oregon. This is a privately held company that currently has around 200 employees. This is a privately held company that is known for selling pistol laser sights and rifle scopes to their international audience.
---
Should You Only Buy American Scopes?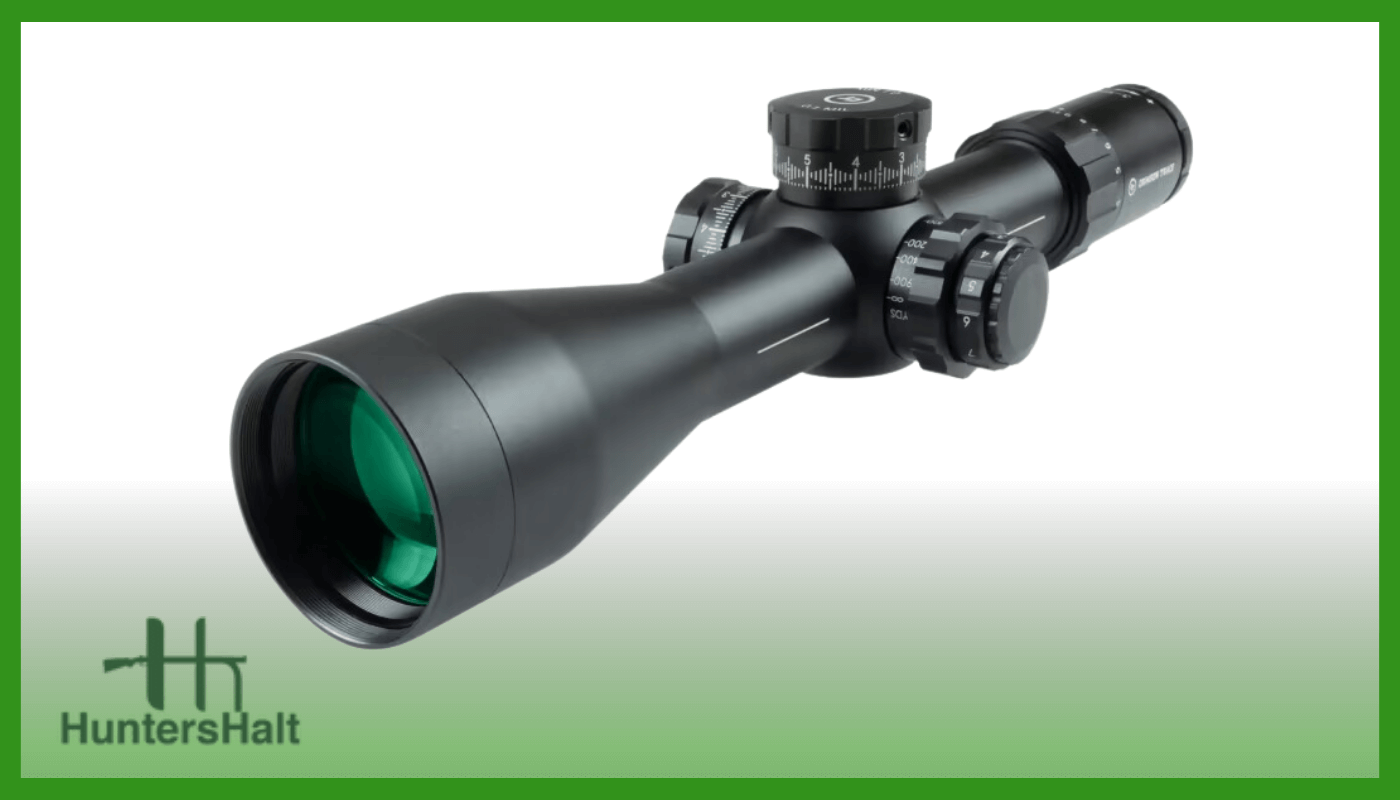 Before deciding on the best rifle scope for your needs, you need to first decide if you want American or internationally-made products. The quality and craftsmanship of rifle scopes can vary significantly depending where they are made.
American-made scopes:
Better reputation for quality than those made in Asia.
Shoppers like to support their local economy
Better production quality control.
Products are generally more durable and last longer than products made with cheaper materials in Asia.
Asian Manufacturers:
Rifle scopes and other products made overseas can get a bad reputation for quality & attention to detail. This is understandable as nobody wants to invest hundreds of dollars only for their scope to stop working a few months later! However, many of the Red Dots for a Hellcat that I've used are from China or the Philippines. Here are some of the main points to consider when buying products overseas.
Less Durable – Some products will not last as long as American-made competitors.
Cheaper Materials
Cheaper Labor
Long Lead-times – With recent supply chain issues, products can often take very long to ship to American customers.
---
Most Popular Product Lines
Although we have primarily been discussing rifle scopes from Crimson Trace, they manufacture many different products! Here are some of the most popular product lines made by Crimson Trace.
Laser Sights
Tactical Lights
Rifle Scopes
Red Dot Sights
Accessories
---
Frequently Asked Questions
Are Crimson Trace scopes made in USA?
Crimson Trace is an American based company. However, they do not make their scopes in the USA. Most of their scopes, like the Crimson Trace Hardline& Brushline scopes, are manufactured in China & the Philippines. This allows them to create good quality products for very competitive prices.
Which US optics scopes are made in USA?
Optic scopes from Leupold, Trijicon, EOTech, and Redfield are all made in the USA. These scope companies are all known to very high quality standards. They are also more expensive than a Crimson Trace Scope.
What scopes are made in Germany?
Zeiss is the most popular scope company that manufactures its product in Germany. Germany has high manufacturing quality standards but does not have the low costs of Asian production. The first focal plane scopes (FFP Reticle) from Zeiss are popular with hunters.
What scopes are made in Japan?
Nightforce, Primary Arms, and MARCH scopes are all made in Japan. These companies produce their full line of scopes in their Japanese facilities. However, many scope manufacturers avoid Japan because it is more expensive than countries like China, the Philippines, or Thailand.
Are vortex scopes made in China?
The majority of Vortex rifle scope lines are made in China. This allows them to significantly reduce the cost of producing their optics. Generally speaking, Vortex makes an excellent scope that is very popular for hunters, range shooters, and people in the Military.
---
The Bottom Line
Crimson Trace is one of many scope manufacturers that outsource their manufacturing & production overseas. Most Crimson Trace rifle scopes are manufactured in China & in the Philippines to reduce production costs. However, this does NOT mean these are low-quality optics. Their scopes with an illuminated reticle are amongst the best for low light hunting! But if you want to shop only American, check out our list of Best 350 Legend Scopes including Leupold & Trijicon!