Vortex is one of the most popular optic brands on the market. Hunters, law enforcement, and target shooters alike run a Vortex scope. Many people consider Vortex to be the most fairly priced rifle scope on the market. However, for many people, it is important to know where their scope is made. Many shooters want to support American-made products. In this post, we'll break down where is Vortex scopes made optic by optic.
---
Where Are Vortex Scopes Made?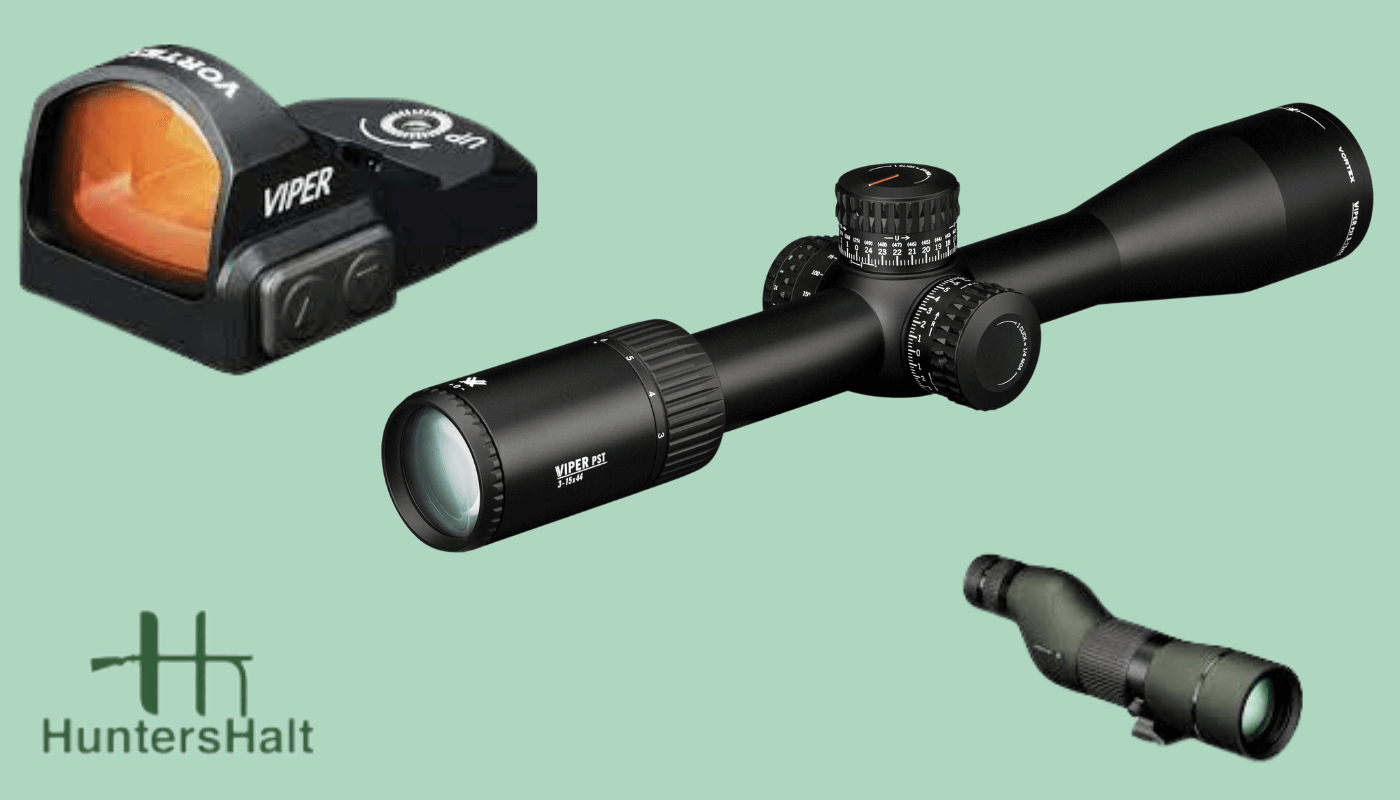 Vortex Diamondback Scopes – The Vortex Diamondback tactical scopes are great optics for medium to long-range shooting. In fact, I think the Diamondback scope is the
Vortex Razor HD AMG – The Vortex Razor is a popular line of rifle scopes. AMG stands for American Made Glass. This is one of the only optics Vortex actually makes in America. This scope is manufactured from high-strength aluminum in their Wisconsin plant. The other optics in the Vortex Razor line (red dot sights) are manufactured in their Japan facility.
Vortex Viper HS Scopes – The Vortex Viper line of scopes and sights are one of their most popular. In fact, we rated the Viper to be one of the best scopes for a Henry Big Boy. They are budget-friendly optics used by all types of shooters for various use cases. This scope line is manufactured in the Philippines.
Vortex Crossfire & Vortex Crossfire II Scopes – The Vortex Crossfire line of scopes & sights are manufactured in China. They make a great fast-focus eyepiece compared to any hunting scope. In fact, most of Vortex's front focal plane scopes are made in china.
Spotting Scopes – Hunters, astronomers, and nature observers all get great use out of spotting scopes. Vortex makes some of the best spotting scopes for long-range viewing. The majority of the Vortex spotting scopes were manufactured in China.
Scope Rings – A rifle scope is not complete without a set of scope rings to mount it. Vortex makes some of the best scope rings on the market. Their scope rings are one of their only product lines that are manufactured in the USA.
---
Vortex Manufacturing Locations
For many people, where a product is manufactured matters. It can be a trust signal that the product is made to a certain standard. In some cases, products from certain countries are subject to higher standards and regulations than products from other countries.
For this reason, an optic might be considered one of the best Turkey Shotgun red dot sights, but if it's made in China some hunters won't want it.
The following countries contain manufacturing plants that build Vortex scopes:
USA
Japan
Philippines
China
People also often ask where are burris thermal scopes made? They are shocked to find out that they are also made internationally!
USA Manufacturing
Manufacturing products in the United States usually means higher quality. adherence to industry standards is generally stricter in the United States, meaning that products are held to a higher standard before they are released to the public. This can lead to a longer production process and higher production costs, but the end result is usually a product of higher quality. The EOTech XPS and EXPS are optics that are made in the US.
This certainly does not mean that products manufactured outside the US are of low quality. However, there is a certain level of quality you can expect from American-made optics.
Japan Manufacturing
Japanese manufacturing has long had a reputation for quality and reliability. In fact, many of the world's top car brands, including Toyota, Honda, and Mazda, are based in Japan. Japanese manufacturers are known for their attention to detail and commitment to continuous improvement. Several of Vortex's best BDC scopes are made in Japan. If you want to learn more about what a BDC meaning scope is, read our guide!
In fact, Japan invented many of the modern quality standards at their Toyota facility that are used around the world today.
Philippines Manufacturing
The Philippines has long been considered a good cheap alternative to China for manufacturing. This is probably why Vortex chooses to do a large portion of its manufacturing there. The country has a large pool of educated workers, and its wages are lower than China's. In addition, the Philippines is geographically closer to many of its Asian neighbors, which can help to reduce shipping costs.
China Manufacturing
China's manufacturing has gotten a bad reputation over the years. However, not all Chinese manufacturing is the same. Many shooters also ask, where is holosun made? The answer is also China!
To ensure better quality for the Vortex rifle scopes, they use 3rd party quality control. Vortex uses Japanese optics experts to oversee its Chinese operations. This process has proven effective over the last several years. I've also tested other optic companies like CenterPoint & had similar issues. Can you guess who makes center point scopes? Yup, it's China!
---
Vortex VIP Warranty Breakdown
Vortex customer service has a good reputation. The company is known for its friendly and helpful representatives, who are always quick to resolve any issue. I have always received timely support whenever I had a problem with a Vortex optic.
Their VIP warranty is one of the best in the business. They will fix or replace just about any issue you encounter with your optic free of charge. The Athlon Optics Warranty is another fantastic service provided by one of Vortex's top competitors.
---
Issues With Vortex Products
By now you know that Vortex is a top-notch international rifle scope & optic manufacturer. They create popular optics in the many manufacturing facilities around the world. However, there are some common issues that shooters run into with certain optics.
---
FAQs – Vortex Scopes
Is Vortex better than Leupold?
In general, Leupold optics are a tiny step up in quality over Vortex. But for the average shooter, it's not worth the extra money to go with Leupold. Vortex makes great optics for the price.
Who is Vortex Optics owned by?
Vortex optics is owned & founded by the Hamilton family. It is one of the only optic manufacturers that remained a family business over the years. They make great optics that work for shooters of various budgets and use cases.
Is Burris made in USA?
Burris is an American company, and while not every product is made in the USA, all products are tested in America. That's because Burris believes in the quality of their products - and they want to make sure that they meet the high standards set by their team of experts.
Are any Leupold scopes made in China?
No, all Leupold scopes are made in Beaverton, Oregon. Leupold has been making scopes in the United States for a very long time. In fact, they're one of the only major scope manufacturers that still makes all of their scopes in the United States.
Where are Swarovski scopes made?
Swarovski Optik is a manufacturer of precision optical instruments, located in Absam, Austria. Their products include range finders, binoculars, spotting scopes, rifle scopes and microscopes. Swarovski also manufactures eyeglasses and sunglasses.
---
The Bottom Line
Now you have a full understanding of the basic manufacturing practices and locations for Vortex optics. Vortex is known to make some of the best scopes for M&P 15 and other weapons. However, there are also some well-known issues with certain Vortex scopes. Be sure to read previous customer reviews and pick the optic that best suits your specific needs.