CenterPoint rifle scopes are one of the most popular brands on the market, but who makes them? In this article, we'll take a closer look at who makes CenterPoint scopes and what sets them apart from other brands. We'll also discuss some of the company's history and how it has become one of the leading providers of optics products.
---
Scope Manufacturing – Who Makes CenterPoint Scopes?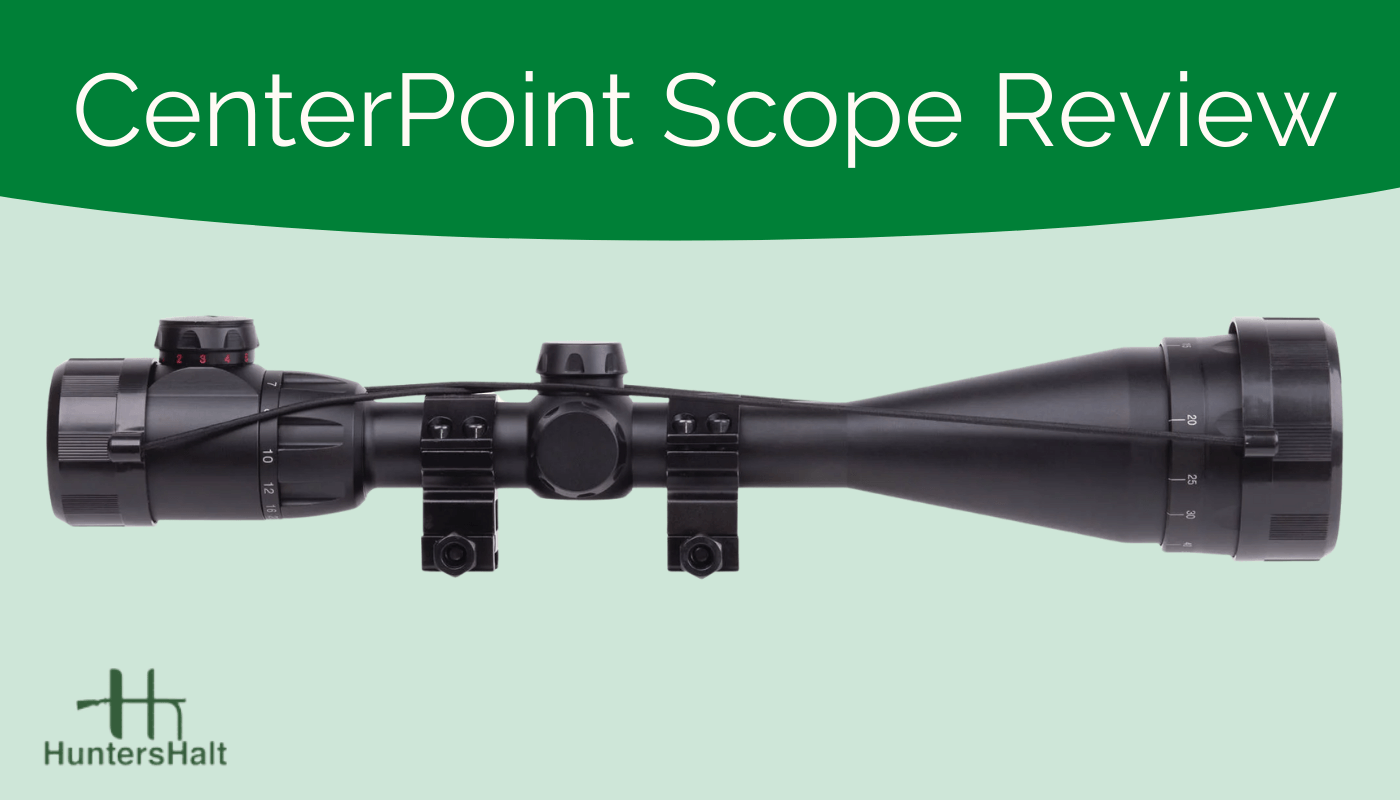 The CenterPoint scope line is owned by the Crosman Corporation located in Bloomfield, New York. Unfortunately, the CenterPoint scope line itself is not manufactured anywhere near the headquarters.
CenterPoint scopes are manufactured at a Chinese manufacturing plant. There's no denying that Chinese manufacturing has come a long way in recent years. In fact, many of the Vortex scopes are made in China as well.
However, when it comes to quality, there are still some inherent potential issues that arise from having manufacturing based in China instead of the United States.
Less adherence to quality standards. In the U.S., there are stricter regulations in place that manufacturers have to adhere to in order to produce products of a certain quality. In China, however, these regulations are often less strict, which can result in products that don't meet the same high standards as their American counterparts.
Many Chinese manufacturers often cut corners in order to save costs, which can also impact the quality of their products.
There is no wonder I have found issues with the Vortex Venom & issues with the Vortex Viper in the past. They are both Chinese-made products. And although I have never performed an in-depth CenterPoint scope review I am fairly certain there will be some issues with such a cheap scope.
History Of The Crosman Corporation
Crosman Corporation has been incorporated since 1924, making it one of the oldest airgun manufacturers in the world. The company started out as Crosman Rifle Company, producing firearms for target shooting and plinking.
In the 1930s, Crosman began experimenting with CO2-powered guns, and by the 1950s, they were one of the leading manufacturers of airguns. In fact, their very first rifle required 3-10 pumps to pressurize the gun for each shot.
Is A CenterPoint Scope Worth It?
If you're a moderate to experienced shooter, you're probably better off avoiding CenterPoint scopes entirely.
Why? Because cheap scopes tend to have quality issues, and CenterPoint is no exception. Their first focal plane scopes are often loose and difficult to keep zeroed, which is frustrating for anyone who wants to be able to hit their target reliably.
When it comes to gun optics & accessories…you get what you pay for. If you're only paying $30-$80 for a scope & 30mm scope rings, the chances are you won't be getting premium products like what I tested in my list of the best M&P 15 Sport 2 scopes!
I will say that if you're a beginner and have a limited budget, CenterPoint scopes may be worth trying out. Many of them come with features such as:
Adjustable objective lens
Mil-dot reticle
First focal plane scope
Parallax for under ~50 yards
Problems With CenterPoint Scopes
Cheap scopes like CenterPoint are known to frequently have issues. Now I won't 100% blame this on the price range of the scope, because I have found similar issues with Leupold which is an excellent scope.
Here are some of the issues I found with CenterPoint Scopes:
Poor Quality Scope Covers – Scope covers break easily and are relatively useless.
Adjustment Knobs Got Stuck – The adjustment knobs are of no use if they don't work!
Small Objective Lens – Does not allow for maximum light transmission.
Types of Center Point scopes
Here is a list of the most popular CenterPoint scopes available today:
CenterPoint Tag Bdc 4-16×40 mm Rifle Scope (Black), LR416AORG2
CenterPoint 6-20x50mm Riflescope with Tag and Bdc Illuminated Reticle (Black)
CenterPoint 3-12x44mm Rifle Scope (30mm tube) with Precision Lock Turrets (Black), LR312SFT2
Centerpoint 3-9x32mm Rifle Scope, Illumination Mil-dot Reticle, LR392RG2
CenterPoint 3-9 x 50 mm Rifle Scope and Sight with Picatinny Rings, Tag BDC Reticle (Black)
CenterPoint FFP Spectrum 3-9x40mm Rifle Scope LR394FFPS1
CenterPoint CP4032 Scopes 4x32mm Duplex Reticle with Lens Caps and Dovetail Rings
CenterPoint Riflescopes and Sights 3-9x40mm with 30mm Picatinny Rings, Precision Lock Torrent System, LR394SFT2 Riflescopes Sights
These optics range in price from ~$30 to $100. Remember they make regular rifle scopes and not a pellet gun scope. I personally would recommend going with any of their bdc reticle scope options. Walmart is the primary retailer for center point scopes.
Is The Warranty Any Good?
Surprisingly, the CenterPoint line does come with a warranty for the original scope owner. Here is a picture of what is covered.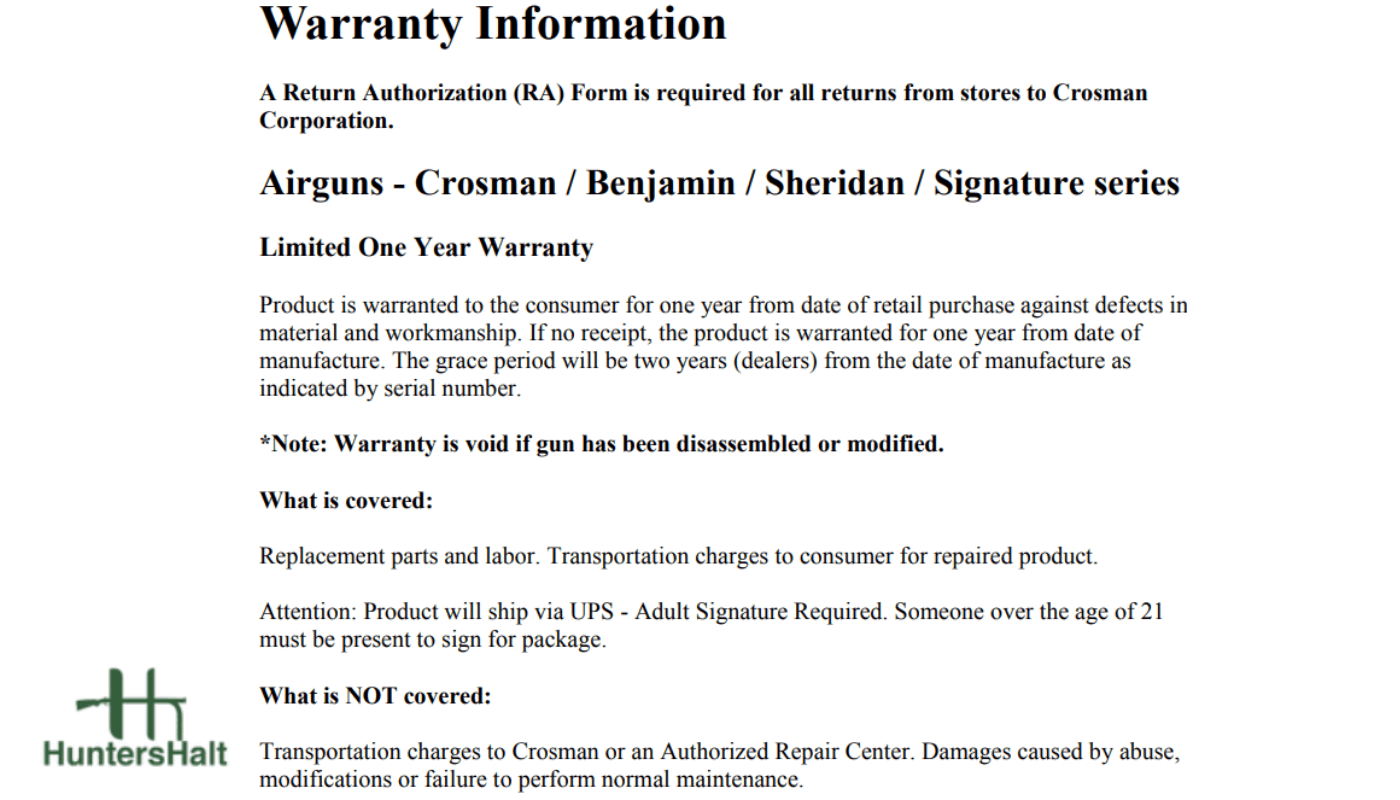 ---
Frequently Asked Questions
What scope comes on CenterPoint crossbow?
The CenterPoint rifle scope is a great addition to your crossbow. This 4x32mm scope comes with a mounting rail that makes it easy to attach to your crossbow. With its precision optics, you can easily hit your target with pinpoint accuracy.
Does Crosman own CenterPoint?
Yes, the Crosman Corporation owns CenterPoint scopes. Crosman is a leading manufacturer of airguns and airgun ammunition, while CenterPoint focuses on producing high-quality cheap scopes for hunting and sport shooting.
What brand rifle scope does the US military use?
The Trijicon M150 ACOG (Advanced Combat Optical Gunsight) is the rifle scope of choice for the US military. It's a tough, lightweight scope with an illuminated reticle that's been battle-tested in Iraq and Afghanistan. No, they do not use Center Point scopes in the military! Using a cheap scope would not be a great idea in serious combat situations.
Is CenterPoint a good brand of crossbow?
CenterPoint makes some great crossbows. In my opinion, the CP400 is probably the fastest crossbow I've ever used. It's also really comfortable to hold and easy to shoot.
---
The Bottom Line
Now you know where CenterPoint scopes are made and my thoughts on this scope line. Remember, you get what you pay for with rifle scopes. I know people will call me a scope snob, but I have learned my lesson buying cheap scopes. If you have the budget, I definitely recommend looking for a better option.